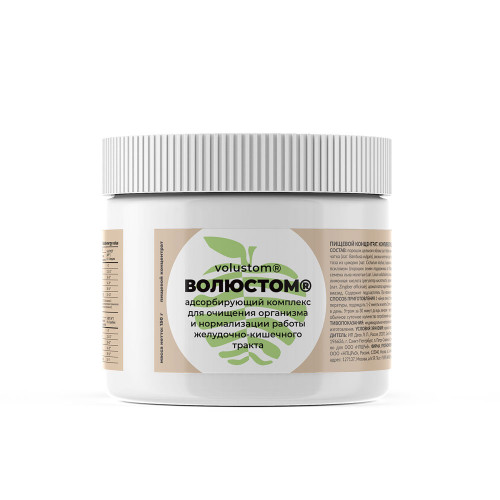 New Hot
ORDER BY PHONE
We hasten to inform you - now for your convenience we accept orders by phone! Call 210 3808 522 and we will be happy to help you by answering any of your questions.
Volustom
Stock:

In Stock

Code:

7210114
Volustom - new generation of absorbent products

Bulk: 150 g
Multicomponent preparation on the basis of food fiber`s complex for organism purification, normalization of weight and improvement of gastrointestinal tract activity. Protects organism`s internal environment from toxic substances and radionuclides and promotes their removal. Promotes normalization of the metabolism, creates a favorable environment for development of useful lactobacteries, is effective prophylactic of large intestine diseases. Increases food volume in stomach due to food fibers, creating feeling of saturation that promotes decrease in excess weight.
Recommended:

in violation of lipid and carbohydrate metabolism, intoxication of the body, digestive disorders,
with high blood cholesterol,
at risk of developing polyps and hemorrhoids,
to prevent the appearance of neoplasms.
prevention of new growths.
Ingredients:
Whole apple powder (Malum), chicory inulin (Cichorium intybus), bamboo fibre (Bambusa vulgaris), oat fibre (Avena sativa), apple fibre (Malum), chicory oligofructose (Cichorium intybus), guar gum (stabilizer), xanthan gum (stabilizer), psyllium husks (Plantago ovata), silica (flowing agent), ground flax seeds (Lini sativi semen), cinnamon powder (Cinnamomum verum), apple pectin, citric acid (acidity regulator), curcuma powder (Curcuma longa), ginger powder (Zingiber officinale), nature-identical flavoring "Apple", natural sweetener stevioside.
How to apply:
Dilute 1 teaspoon (5 g) of the concentrate powder with 100–150 ml of room temperature water, wait for 1-2 minutes and drink. Wash down with an additional amount of water. Take it 1–2 times a day. In the morning 30 minutes before eating, in the evening-3-4 hours after eating. It is recommended to increase the usual daily amount of liquid consumed during the intake of Volustom concentrate.