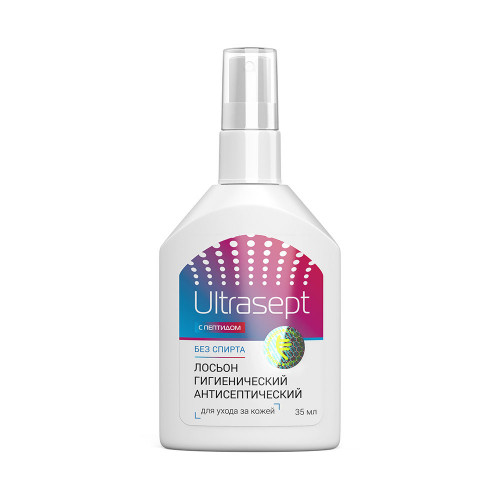 New Out Of Stock
ORDER BY PHONE
We hasten to inform you - now for your convenience we accept orders by phone! Call 210 3808 522 and we will be happy to help you by answering any of your questions.
Ultrasept
Stock:

Out Of Stock

Code:

7330055
Ultrasept - Hygienic antiseptic lotion with a peptide

Bulk 35 ml
Alcohol-free antiseptic spray is fast and effective in action. Designed for processing hands. Cleanses and disinfects the skin, preventing the transmission of pathogens. Provides protection and clean hands without leaving a feeling of tightness.
Thanks to the peptide of the T-link of the immune system, Ultrasept activates local immunity, due to the antiseptic (Myristamidopropalkonium Chloride) it provides an antimicrobial effect. It has a pronounced antimicrobial effect against gram-positive, gram-negative, aerobic and anaerobic bacteria, enhances local defense reactions, regenerative processes due to modulation of the cellular and local humoral immune response.
The composition of Ultrasept also included an extract of the series, which has a calming effect. Betaine and glycerin have a moisturizing, emollient, nourishing effect.
Recommended by:
for quick cleansing of the skin of hands
to nourish, soften and quickly heal small wounds

Ingredients:
Aqua, Glycerin, Bidens Tripartita Flower/Leaf/Stem Extract, Polyquaternium-7, Cocamidopropyl Betaine, Betaine, Disodium EDTA, Aroma, Myristamidopropalkonium Chloride, Peptidе Complex АА-2, CI 42090.
How to apply:
Apply lotion to the area of ​​the skin (face, hands, feet, body) that needs to be cleaned.

Ingredients
AA-2
It has a selective effect on various cells of the immune system, normalizes metabolism in cells and regulates the functions of the immune system.
Betaine and Glycerin
They have a moisturizing, softening and nourishing effect.
Bídens extract
Has a calming and regenerating effect, is actively used for skin manifestations of exudative diathesis, furunculosis, pustular skin diseases.
Myristamidopropyl Alkonium chloride
It belongs to the group of cationic antiseptics. Activates regeneration processes. Stimulates protective reactions at the site of application by activating the absorption and digestion functions of phagocytes, potentiates the activity of the monocytic-macrophage system. It has an antiseptic effect due to the hydrophobic interaction of the drug with the cytoplasmic membrane of the microbial cell, leading to its destruction and death. Has a pronounced bactericidal effect against gram-positive (including Staphylococcus spp., Streptococcus spp., Streptococcus pneumoniae), gram-negative (including Pseudomonas aeruginosa, Escherichia coli, Klebsiella spp.), Aerobic and anaerobic bacteria, determined the form of monocultures and microbial associations, including hospital strains with multidrug resistance to antibiotics. It has a pronounced hyperosmolar activity, as a result of which it relieves wound and perifocal inflammation, ensures the outflow of excess fluid, including purulent discharge. Does not damage granulation and viable skin cells, does not inhibit marginal epithelization, and does not irritate the epithelium of the mucous membrane.