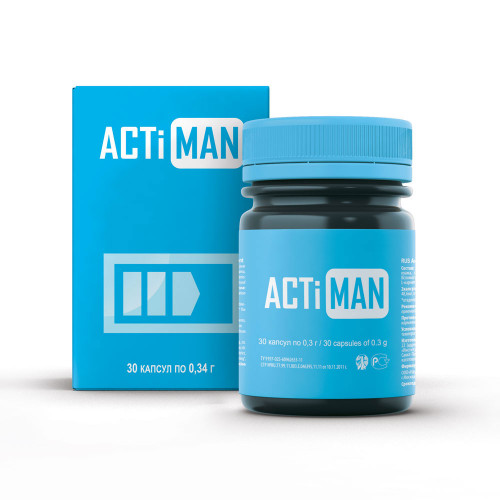 New
ORDER BY PHONE
We would to inform you that we accept orders by phone! Call 210 3808 522 and we will be happy to help you by answering any of your questions.
Actiman
Stock:

In Stock

Code:

7210033
Actiman

Bulk: 30 capsules by 0,39 g
The multicomponent medicine, improving activity of men's urinogenital system. Improves trophic processes in the prostate gland, testicles and epididymis. Improves processes of spermatozoa maturing and their mobility in ejaculate. Reduces stagnant and inflammatory processes in organs of a small pelvis. Improves inflow of blood to cavernous bodies of penis. Slows down growth of prostate adenoma.
Recommended:

violations of erectile function,
chronic stagnant prostatitis,
prostate gland adenoma,
decrease of libido,
premature ejaculation,
decrease in quality of ejaculate.

Ingredients:
L-arginine, gelatin capsule (gelatin food, food dye E171), MCC (filler), L-carnitine, acetyl-L-carnitine, extract sabal palm (Serenoa), extract flowers of a cactus Opuntia, calcium stearate (the flowing agent), extract pumpkin seeds, pidzheuma bark extract, extract muira puama, extract epimediuma.
How to apply:
For adults 1 capsule 2 times a day with meal. Duration of reception from 14 to 30 days. Repeated receptions are possible 3-4 times within a year.