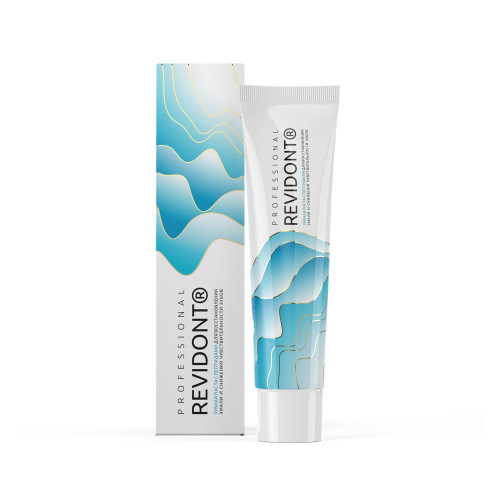 New
ORDER BY PHONE
We hasten to inform you - now for your convenience we accept orders by phone! Call 210 3808 522 and we will be happy to help you by answering any of your questions.
Toothpaste for repairing enamel and reducing sensitivity with peptides
Stock:

In Stock

Code:

7510016
Toothpaste for repairing enamel and reducing sensitivity with peptides
Bulk 64 g
New Revidont toothpaste
is created specifically to restore enamel and reduce tooth sensitivity. It contains peptides of vessels, cartilages and thymus, which are used for bone tissue regeneration. It consists of potassium citrate, which reduces sensitivity of enamel and dentin, hydroxyapatite, which is responsible for remineralization, zinc citrate - slows down formation of plaque and subgingival deposit, '
Neovitin
' complex has anti-inflammatory, antioxidant, regenerative action.
Recommended for daily care:
in case of increased dental sensitivity;
to restore and strengthen enamel;
to reduce calculus formation;
to eliminate plaque.

Ingredients: Sorbitol, Silica, Aqua, Glycerin, Sodium Lauroyl Sarcosinate, Aromas, Potassium Citrate, Sodium Bicarbonate, Hydroxyapatite, Zinc Citrate, PVP, Phenoxyethanol, Ethylhexylglycerin, Panax Ginseng Cell Culture Extract (Neovitin®), Calcium Lactate, Xanthan Gum, Cellulose Gum, Bisabolol, Sodium Saccharin, Peptide Complex-3, Peptide Complex-4, Peptide Complex-6, Limonene, Linalool, Eugenol.
How to apply: For best results, use the toothpaste at least twice a day, after meal. The toothpaste does not change color of teeth.
Ingredients
Bisabalol
Soothes and reduces irritation by reducing the level of pro-inflammatory compounds of cytokines (one of the main mediators of inflammation). Contains a high concentration of a powerful derivative, vitamin B5, better known as panthenol.
Hydroxyapatite
A natural mineral substance that is fully compatible with the human body (bone tissue consists of 70% of it) and is not rejected by it. Hydroxyapatite particles of different sizes have a high affinity for tooth tissues and help restore the mineral density of the surface and subsurface layers of enamel by sealing the smallest defects in the enamel and tubules of exposed dentin. The surface of the teeth becomes smoother and smoother, and the enamel returns to its original translucency. The sensitivity of the teeth is significantly reduced.
Neovitin
Complex "Neovitin" is a product with pronounced antioxidant and anti-aging properties, obtained from the biomass of ginseng root, created according to the original HBO technology at the Russian Academy of Sciences "VITA". It has been proven to have anti-inflammatory, regenerating, antimicrobial, immunomodulatory and antitumor effects.
Peptide complexes А-3, А-4, А-6
Peptide complex А-3: strengthens capillary walls, improves microcirculation and nutrition of periodontal tissues, reduces gum bleeding. Peptide complex A-4: strengthens the structure of the teeth and stimulates the synthesis of enamel, making the surface smoother and more resistant to bacteria and acids. Peptide complex A-6: has a regenerating, trophic, immunostimulating and antimicrobial effect, accelerates the regeneration and healing of the oral mucosa and periodontal tissues. Strengthens the immune defense by activating the IgA antibodies in saliva, increasing resistance to various strains of Streptococcus mutans and helping to reduce their colonies.
Potassium citrate
It helps to reduce the sensitivity of the teeth, potassium salts have the ability to accumulate in the dentin in the area of nerve endings, thereby blocking the passage of a nerve impulse.
Sorbitol
Suppresses the growth of cariogenic bacteria, improving the microflora of the oral cavity. Not a food product for Streptococcus sobrinus, Streptococcus mutans and Lactobacillus. Sorbitol does not belong to carbohydrates and is allowed for use by people with diabetes without harm to health.
Zinc citrate
Zinc citrate, like hydroxyapatite, is a component that affects precisely the cause of the development of hypersensitivity of the teeth - the accelerated movement of fluid in the dentinal tubules, which leads to irritation of the nerve endings.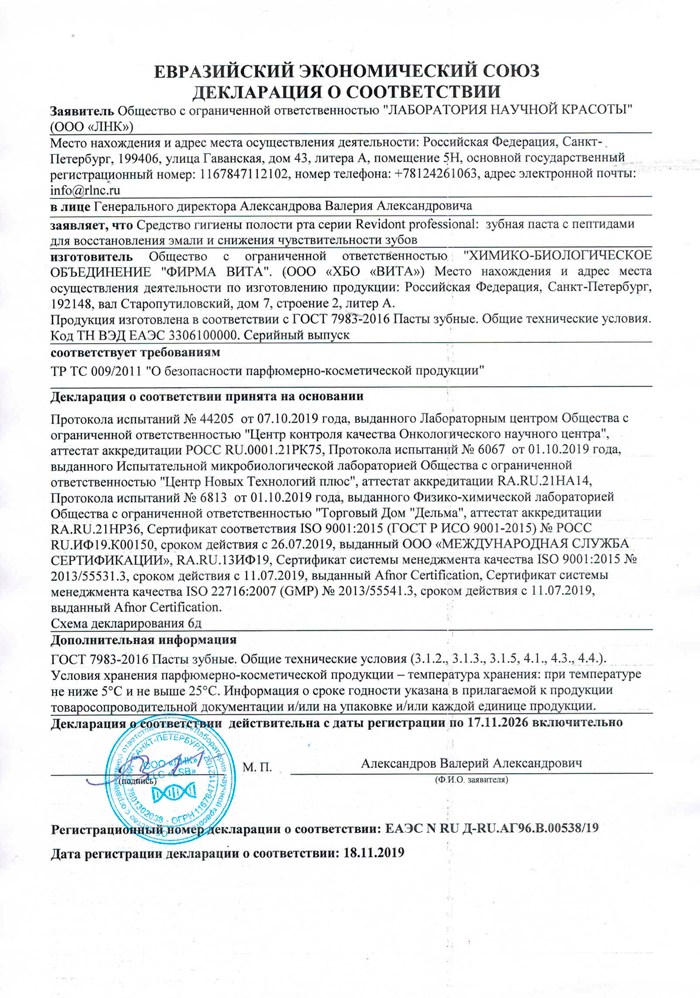 You can download licenses:
Toothpaste for repairing enamel and reducing sensitivity with peptides — Declaration of conformity