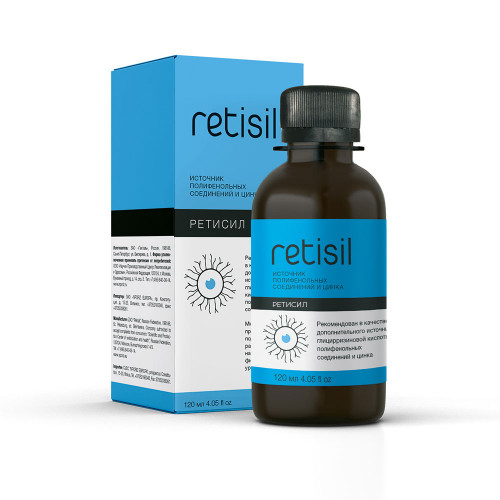 New
ORDER BY PHONE
We hasten to inform you - now for your convenience we accept orders by phone! Call 210 3808 522 and we will be happy to help you by answering any of your questions.
Retisil
Stock:

In Stock

Code:

7210533
Retisil - Reliable help to vision

Bulk: 120 ml
Multicomponent medicine, supporting vision organs activity at optimum physiological level. Promotes noticeable improvement of blood supply and metabolism in retina. Interferes atrophy of optic nerve, development of angiopathies and retina degeneration of various genesis. Promotes eye fatigue removal and vision improvement, especially in twilight and at night.
Recommended:
tired eyes syndrome,
accommodation spasm,
diabetic and atherosclerotic angiopathy of retina,
retina degeneration,
detachment of retina,
optic nerve atrophy,
violations of twilight and night vision.

Ingredients:
Water, concentrated juice of cranberries, fructose, concentrated blueberry juice, extract rose hips, blueberry fruit extract, grape seed extract, nettle extract, green tea extract, licorice extract, zinc lactate, extracts of lemongrass, preservatives: sodium benzoate (E211) and potassium sorbate (E202).
How to apply:
Adults and children older 14 years by 1 teaspoon (5,25 g) 2 times a day, with meal. Duration of reception is 1 month. 3-4 repeated receptions within a year are possible. Natural deposit is acceptable. Shake well before use.