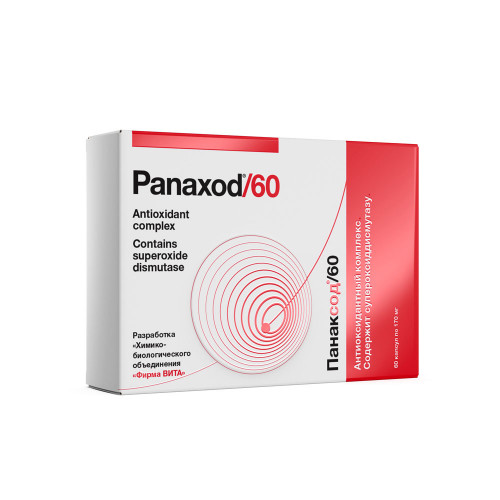 New
ORDER BY PHONE
We hasten to inform you - now for your convenience we accept orders by phone! Call 210 3808 522 and we will be happy to help you by answering any of your questions.
Panaxod
Stock:

In Stock

Code:

7210353
Panaxod - Effective control of free radicals level

Bulk: 60 capsules by 0,17 g
Is the source of superoxide dismutases (SOD), improving a functional state and accelerating recovery at standard therapy of stomach ulcer and duodenum disease. Panaxod stops a pain syndrome quicker, reduces the term of ulcer defects scarring, significantly reduces expressiveness of endoscopic and histologic manifestations of inflammatory reaction in a periulcerous mucous membrane. It is effective also against other diseases of digestive tract, which are followed by an inflammatory syndrome and immunodeficiency. This is the only medication for today, containing SOD in a stable form. Effect of the medication is proved by clinical tests.
Recommended:

standard therapy of stomach ulcer and duodenum disease,
gastritis,
full elimination of helicobacter infection,
digestive tract diseases.

Ingredients:
Filler: microcrystalline cellulose (E 460); binding agents: sugar, potato starch; stabilized SOD, biomass of ginseng; vitamins: rutin, nicotinamide; emulsifier: polyoxyethylene sorbitan monooleate (E 433).
Shell ingredients: gelatin, purified water.
Recommended as a source of the routine, niacinamide, contains panaxosides and superoxide dismutase.
How to apply:
For adults 1 capsule 3-4 times a day in the morning and in the afternoon, with meal. Duration of reception is 2-3 weeks. Recommended in combination with a course of peptide bioregulators.