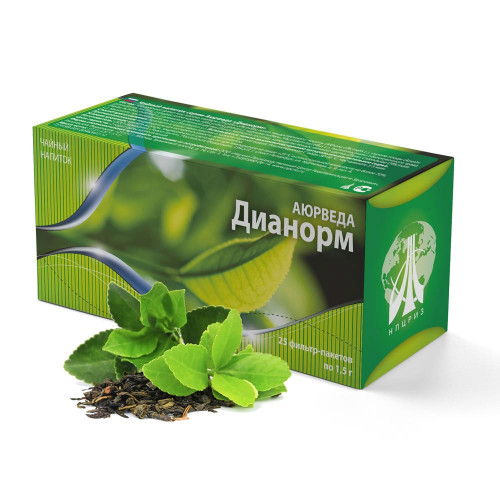 New
ORDER BY PHONE
We hasten to inform you - now for your convenience we accept orders by phone! Call 210 3808 522 and we will be happy to help you by answering any of your questions.
Dianorm tea
Stock:

In Stock

Code:

7720033
Dianorm tea
Bulk 25 filter bags by 1,5 g
Phytotea is the infusion or broth of fruits, flowers, stalks or roots of various herbs, which is well influencing the condition of various organism systems, depending on a combination of components of the obtained drink. Its structure, besides vitamins and mineral substances, includes amino acids, essential oils, tannin and many other useful combinations. Regular application of phytoteas at observance of the certain dosage, which isn't exceeding the daily need of an organism for nutrients, is capable to normalize metabolic processes and increase immunity.
Tea for normalization of stomach, duodenum and pancreas activity. Optimizes processes of digestive enzymes and insulin formation. Protects mucous of stomach and intestines from damage. Reduces load of pancreas. Renders very smooth antihyperglycemic effect. Facilitates the course of diabetes and interferes development of vascular complications.
Recommended:

gastroduodenitis and stomach ulcer,
chronic pancreatitis,
1 and 2 type diabetes,
violations of digestion caused by pancreas dysfunction,
for prevention of diabetic angiopathy of the lower extremities and retina.
Ingredients:
Green tea, ginger root (Zingiber officinale), marshmallow root (Althaea officinalis L.), fennel fruits (Anethi graveolentis fructus), licorice root (Glycyrrhiza glabra L.), blueberry shoots (Vaccinium myrtillus L.), yarrow common herb (Achillea Nerba millefolii L.), chamomile flowers (Flores Matricaria recutita), calendula flowers (Flores Calendulae Officinalis L.), switchgrass eucalyptus leaves (Eucalyptus L.).
How to apply:
Once at night, on an empty stomach.

Ingredients
Blueberry shoots
Calendula officinalis flowers
Chamomile flowers
Eucalyptus leaves
Fennel fruits (Anethi graveolentis fructus)
Ginger root
Liquorice root
Marshmallow root (Althaea officinalis)
Yarrow (Achillea millefolium)