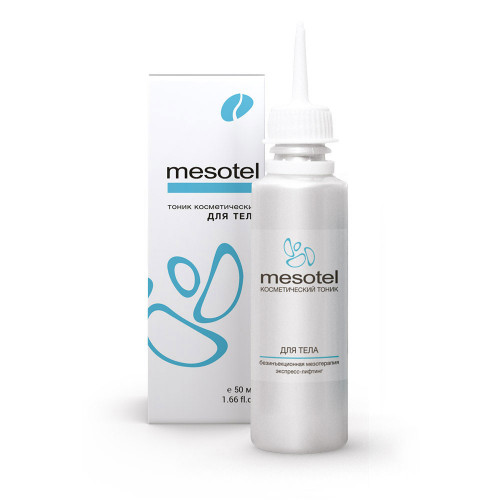 New
ORDER BY PHONE
We hasten to inform you - now for your convenience we accept orders by phone! Call 210 3808 522 and we will be happy to help you by answering any of your questions.
Mesotel for body
Stock:

In Stock

Code:

7420043
Mesotel for body

Bulk: 50 ml
External noninvasive mesotherapy line has proved itself as an effective anti-aging complex for skin of head, body, face and neck. For the purpose to impact maximum quantity of links in development of presenilation of skin, has been created the anti-aging NRE-4 complex + Neovitin® which doesn't have analogs in professional cosmetology. It acts as the booster (amplifier of the effect) increasing efficiency for 23% (it is proved clinically), and as independent medicine improves skin microcirculation, raises its antioxidant status and interferes with photoageing. In such aspect NRE-4 complex + Neovitin® should be considered as the most successful combination of highly active components of the external mesotels rendering the most expressed anti-aging effect for this class of medicines.
Effect:

anti-age effect,
smoothing of small folds
skin moistening,
increase in skin elasticity
improvement of skin texture,
lifting effect,
anti-cellulite action.

Ingredients:
Purified water, tetrahydroxypropyl ethylenediamine, propylene glycol, bioantioxidant complex "Neovitin" ®, lactic acid, glycerin, phenoxyethanol and ethylhexylglycerin, horsetail extract, aralia extract, artichoke extract, panthenol, succinic acid, sodium carboxymethylcellulose, perfume, PEG-40 hydrogenated castor oil, EDTA.
How to apply:
Apply a small amount of mesotel in the evening on previously prepared and cleaned face and neck skin, rub in with massing movements till full absorption. Apply daily. Course duration – 3 months.