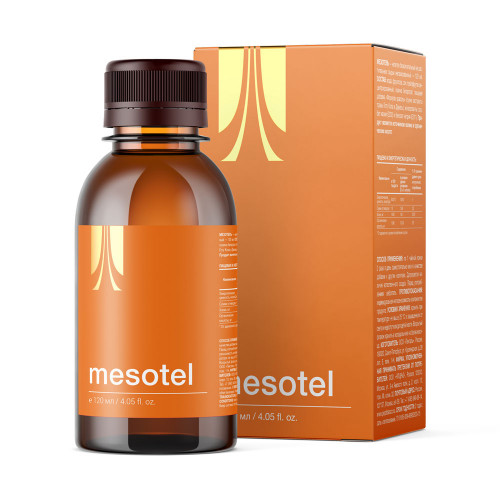 New In Stock
ORDER BY PHONE
We hasten to inform you - now for your convenience we accept orders by phone! Call 210 3808 522 and we will be happy to help you by answering any of your questions.
Mesotel
Stock:

In Stock

Code:

7410013
Mesotel - The rejuvenating medication on the basis of choline, enriched with Gotu Kola and Lycium extracts

Bulk: 120 ml
Mesotels for internal application are basic means of revitalization and today include four generations: Mesotel on the choline basis, beauty Mesotel, Mesotel-NEO, Mesotel tabs. The first one is on choline, Gotu Kola and Lycium basis. Components possess antioxidant, antiviral and antimicrobial actions, increase immunity, reduce risk of an oncopathology. Course application of Mesotel considerably improves brain blood circulation, nervous system activity, accelerates metabolic processes. The main result of antioxidant and revitalizing impact of internal mesotels on an organism is significant improvement of nervous and immune systems activity.
Recommended:

brain blood circulation improvement,
neuromuscular conductivity improvement,
improvement of central nervous system activity,
prevention of brain blood circulation violations and rehabilitation after a stroke,
organism antioxidant protection,
immunity increase,
prevention of aging,
organism general rejuvenation.
Ingredients:
Water, fructose, grapefruit juice concentrate, choline bitartrate, food additive "Formula of Beauty" (dry herb extracts of Gotu Kola and wolfberry), preservatives: and potassium sorbate and sodium benzoate.
How to apply:
Adults and children older 14 years by one teaspoon (5,2 g) 1-2 times a day with meal. Duration of reception is 1 month. Repeated receptions within a year are possible. Natural deposit is acceptable. Shake well before use.