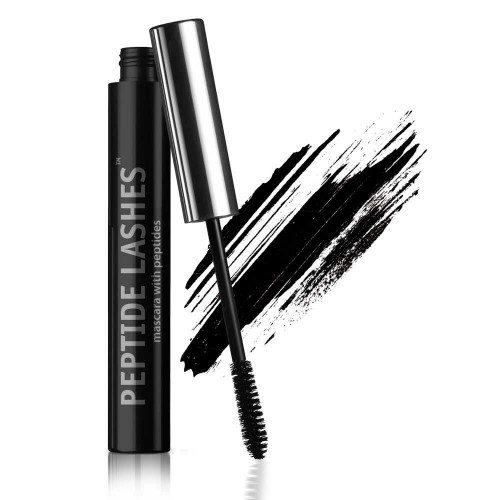 New
ORDER BY PHONE
We hasten to inform you - now for your convenience we accept orders by phone! Call 210 3808 522 and we will be happy to help you by answering any of your questions.
Mascara black
Stock:

In Stock

Code:

7340073
Mascara black
Bulk 7 ml
The PeptideLashes® mascara provides smooth, careful covering of eyelashes and fine colouring from roots to tips, colours each eyelash, stays throughout the day, it isn't smeared, doesn't flow. Gives amazing volume by one movement of a brush. In the basis of mascara - a new, innovative formula with fine features that create a deep and expressive glance and surprising form, bend and volume of eyelashes. Mascara is perfectly fixed on eyelashes, making them extraordinary magnificent and volume, giving saturated, deep black color. Makes look expressive, creates a fashionable, effective make-up.
Contains peptides - cartilaginous tissue.
Effect:

promotes strengthening and growth of eyelashes
provides a uniform colouring
gives saturated black color

Ingredients: Aqua, CI 77499, Hydrogenated Polyisobutene, Bidens Tripartita Flower/Leaf/Stem Extract, Mica (and) Titanium Dioxide, Euphorbia Cerifera Cera, Acrylates Copolymer, Cetyl Alcohol, Sorbitan Isostearate, Hydrogenated Castor Oil, Ceresin, Cera Alba, Copernicia Cerifera Cera, Beeswax или Cera Alba, Castor Oil, Stearic Acid, Palmitic Acid, PVP, Kaolin, Cyclomethicone, PVP/Vinyl Acetate Copolymer, Triethanolamine, Phenoxyethanol, Ethylhexylglycerin, Panax Ginseng Cell Culture Extract (Neovitin®), CI 77266, Nylon-6, Silica, Hydroxyethylcellulose, Parfum, Citric Acid, Peptidе Complex A-4.
How to apply: Evenly put to all length of eyelashes from the basis to tips by easy tightening-up movements. In case of hit in eyes rinse with water. If the brush looks massive after frequent use, wipe its tip by towel or a piece of tissue.
Always apply mascara on lower part of upper eyelashes, otherwise eyelashes will look burdened.
It is important to keep brush clean, therefore wash it in water with soap one time a week.
Don`t apply excessive amount of mascara to avoid massiveness and burdening of eyelashes. It is enough to put one layer of mascara. If you want to put two layers for more drama look, let mascara dry up before adding the second layer. Repeated use of mascara the same day may lead to clots. So if you want to update a make-up for the evening, remove old mascara before repeated application.

Ingredients
Neovitin
The bioantioxidant complex Neovitin is extracted according to the original technology from the own ginseng biomass strain cultivated by the biotechnological method. New technology allows you to achieve the most complete extraction of a complex of antioxidants without losing their activity. The bioantioxidant complex Neovitin has an antioxidant anti-inflammatory, immunostimulating effect due to panaxosides and the specific polysaccharide panaxan. The synergistic effect of the active components of the complex contributes to the development of antioxidant enzymes and interferon in the body, which inhibit the lipid peroxidation (destruction) reaction of the blood vessel cell membrane membranes, strengthen them, and thereby increase the body's resistance, including premature aging. Neovitin controls the formation and leads to a physiological norm, the number of the main provocateurs of premature aging - free oxygen radicals formed during the life of the body. He is also the main agent for their neutralization. The complex is stable during storage and has a high penetrating ability through the dermis and mucous membrane. It is proved: Neovitin has an anti-inflammatory and regenerative effect, which determines its widest use in anti-aging skin products and therapeutic and prophylactic products for oral care. The unique properties of Neovitin are confirmed by 11 patents for inventions and awarded with gold medals of the Russian Academy of Natural Sciences. I.I. Mechnikov "For the practical contribution to strengthening the health of the nation" and P. Erlich of the European Commission for Academic Awards "For special merits in the field of social and preventive medicine"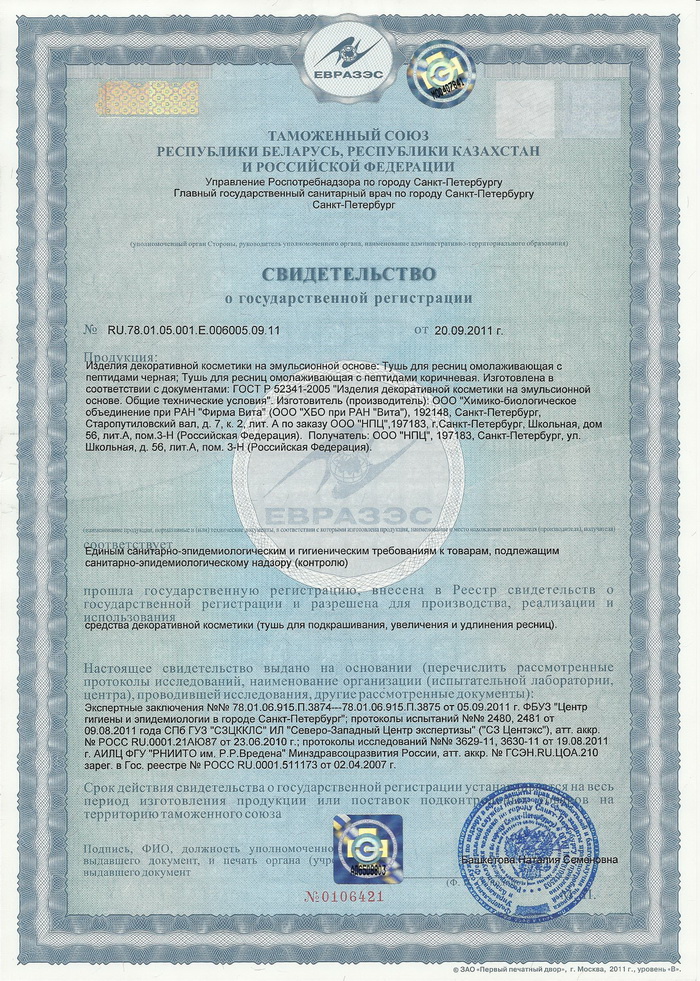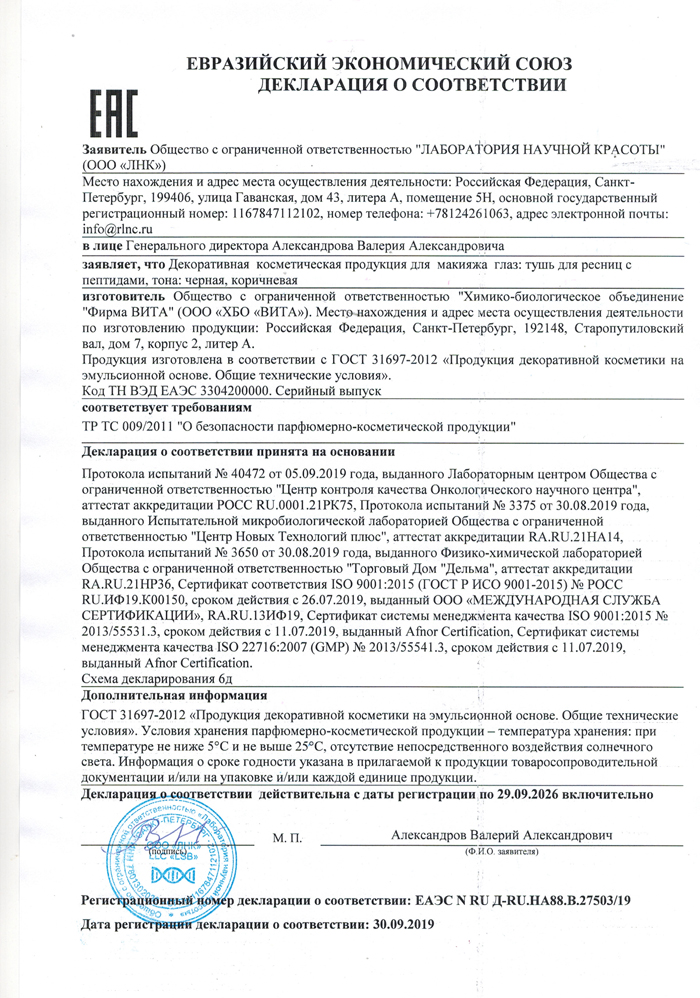 You can download licenses:
Mascara black — Certificate of State Registration