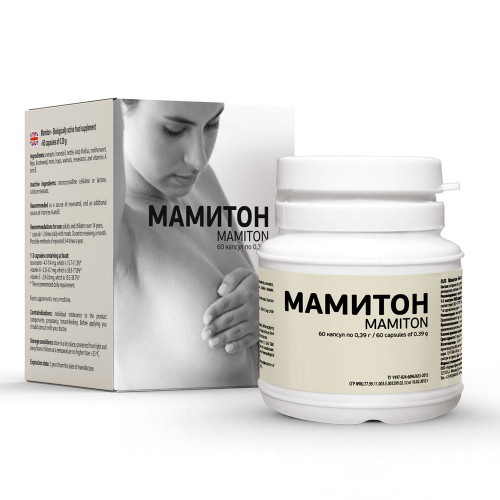 New
ORDER BY PHONE
We hasten to inform you - now for your convenience we accept orders by phone! Call 210 3808 522 and we will be happy to help you by answering any of your questions.
Mamiton
Stock:

In Stock

Code:

7210313
Mamiton - Oncoprotector for female reproductive system

Bulk: 60 capsules by 0,39 g
Medication on the basis of natural components, which normalizes work of female reproductive system, raises the immune status of an organism, renders powerful antioxidant, anti-mitotic, estrogen-blocking actions, especially at risk of oncopathology development due to hormonal violations. The resveratrol, which is a part of medication, not only prevents development of malignant new growths, but also reduces risk of osteoporosis disease, and also stimulates collagen synthesis, thus improving skin and hair condition.
Recommended:

various forms of mastopathy,
for smooth and soft correction of endocrine system activity,
prevention of hormonedependent diseases of female reproductive system organs (mammary glands, uterus and appendages),
optimization of the female hormonal status,
violation of menstrual cycle,
prevention of female oncopathology.

Ingredients:
MCC (agent regulating sticking), gelatin capsule (gelatin, food coloring E171), an extract of motherwort, extract rose hips, extract nettle leaves, vitamin E (alpha tocopherol acetate), resveratrol, extract of the herb horsetail, extract thallus kelp, extract grass knotweed, extract herb peppermint, extract hops, extract walnut, calcium stearate (anti-caking agent), vitamin A (retinol palmitate).
Recommended as a source of resveratrol and an additional source of vitamins A and E.
How to apply:
Adults and children older 14 years by 1 capsule 1- 2 times a day with meal. Duration of reception is 1 month. 3-4 repeated receptions within a year are possible.