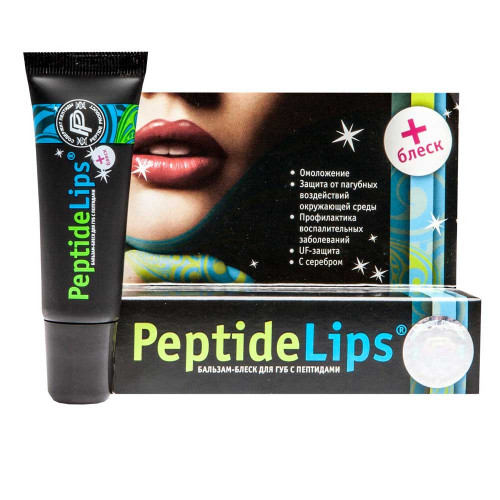 New
ORDER BY PHONE
We hasten to inform you - now for your convenience we accept orders by phone! Call 210 3808 522 and we will be happy to help you by answering any of your questions.
Lip balm gloss
Stock:

In Stock

Code:

7340023
Lip balm gloss
Bulk 10 ml
Brings feeling of comfort from the first application. Quickly relieves from feeling of tightness and dryness. Smoothes, regenerates and moisturizes lip skin. Accelerates healing of cracks. Slows down aging process. Promotes elimination of irritation. Protects lips from temperature drops and fluctuations of humidity level. It is applied and distributed on lips easily. Prophylactic remedy from inflammatory diseases. Has UV-protection.
With PeptideLips® balm your smile will shine by beauty and health!
Contains peptides of vessels and thymus.
Effect:

shine and gloss
promotes development of antioxidant enzymes and interferon in organism
strengthens capillary walls
improves microcirculation and trophicity of tissues
has the regenerating, trophic, immunostimulating effect
accelerates process of restoration in soft tissues
UV-protection
protection against harmful environment effects
prophylaxis of inflammatory diseases
prophylaxis of lip chapping
prevention of possible inflammation of lip red border (reaction to smoking, lipstick or long stay under the sun)
prevention of cracks, microwrinkles and lip peeling

Ingredients: Vaseline oil, polybutene, isononyl isononanoate, copolymer of ethylene and vinyl acetate, isostearyl alcohol, polyethylene, polybutene, mineral oil, cocoa butter, calcium aluminium borosilicate, silica, titanium dioxide, tin dioxide, candelilla wax, carnauba wax, bioantioxidant complex Neovitin®, mica, titanium dioxide, silver oxide, food flavor, peptide complexes: A-3, A-6.

How to apply: Evenly directly on lips several times during the day. To prevent drying and presenilation of lip skin it is recommended to apply balm after long stay under the sun or before going outside to subzero temperature;
In order to remove keratosic parts after putting the balm - easily massage lips;
To improve lip condition and to prevent microcracks in lip corners, apply balm in the morning and before bedtime;
2-3 times a week apply balm on lips, in 2 minutes remove it from the lip surface with circular motions together with the keratosic parts of skin. Then wash up lips, blot and apply lip balm again.

Ingredients
A-3
Vascular peptide (A-3) has a strong vasoprotective effect, through the restoration of microcirculation and metabolism in the vascular wall, increasing its elasticity and permeability. The vascular peptide normalizes cell wall permeability, restores nutrient organs and cellular metabolism.
Neovitin
The bioantioxidant complex Neovitin is extracted according to the original technology from the own ginseng biomass strain cultivated by the biotechnological method. New technology allows you to achieve the most complete extraction of a complex of antioxidants without losing their activity. The bioantioxidant complex Neovitin has an antioxidant anti-inflammatory, immunostimulating effect due to panaxosides and the specific polysaccharide panaxan. The synergistic effect of the active components of the complex contributes to the development of antioxidant enzymes and interferon in the body, which inhibit the lipid peroxidation (destruction) reaction of the blood vessel cell membrane membranes, strengthen them, and thereby increase the body's resistance, including premature aging. Neovitin controls the formation and leads to a physiological norm, the number of the main provocateurs of premature aging - free oxygen radicals formed during the life of the body. He is also the main agent for their neutralization. The complex is stable during storage and has a high penetrating ability through the dermis and mucous membrane. It is proved: Neovitin has an anti-inflammatory and regenerative effect, which determines its widest use in anti-aging skin products and therapeutic and prophylactic products for oral care. The unique properties of Neovitin are confirmed by 11 patents for inventions and awarded with gold medals of the Russian Academy of Natural Sciences. I.I. Mechnikov "For the practical contribution to strengthening the health of the nation" and P. Erlich of the European Commission for Academic Awards "For special merits in the field of social and preventive medicine"