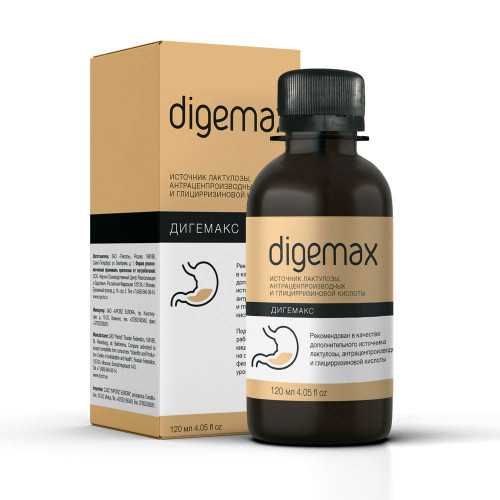 New
ORDER BY PHONE
We hasten to inform you - now for your convenience we accept orders by phone! Call 210 3808 522 and we will be happy to help you by answering any of your questions.
Digemax
Stock:

In Stock

Code:

7210153
Digemax - Reliable help to digestive tract

Bulk: 120 ml
Highly effective medicine on the basis of natural components normalizes activity of digestive tract, has the ambient effect on the mucous membrane of a stomach, thereby making protective barrier, interfering action of aggressive components and pathogenic flora. Stimulates growth and activity of useful intestinal microflora, improves vermicular movement, renders spasmolytic, anti-inflammatory, hepatoprotective and soft choleretic actions.
Recommended:

peptic ulcer disease,
acute and chronic gastritis,
colitis, diarrhea, enteritis,
heartburn and increased abdominal distension,
bile congestion,
hyporexia.

Ingredients: Water, apple juice concentrate, lactulose, fructose, concentrate of chokeberry juice, sodium alginate, marigold flower extract, licorice root extract, citric acid (acidity regulator), chamomile flower extract, extract of the herb St. John's wort, extract of aloe vera, marshmallow root extract, herbal extracts of peppermint, yarrow herb extract, fennel seed extract, preservatives: potassium sorbate and sodium benzoate.
Recommended as a source of the lactulose, glycyrrhizic acid, anthracenederivatives containing polyphenolic connections.
How to apply: Adults and children older 14 years by one teaspoon (5ml) 2 times a day with meal. Duration of reception is 2-3 weeks. 3-4 repeated receptions within a year are possible. Presence of natural deposit is acceptable. Shake well before use.