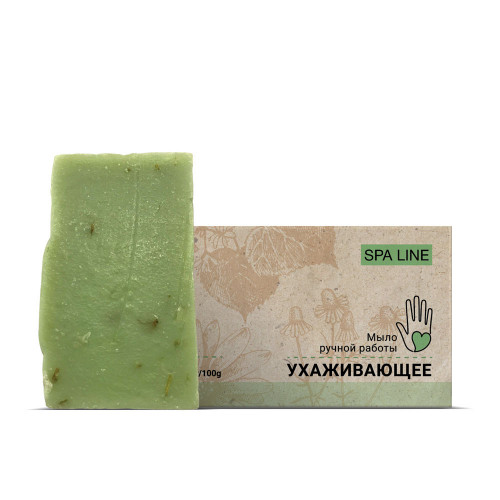 ORDER BY PHONE
We hasten to inform you - now for your convenience we accept orders by phone! Call 210 3808 522 and we will be happy to help you by answering any of your questions.
Handmade caring soap
Stock:

In Stock

Code:

7330052
Handmade caring soap

Bulk 100 g
SPA LINE - series of products meant for home use. The line of professional tools for body and hair care is created considering current trends and the last innovative technologies in SPA-cosmetology field. It includes shampoo and conditioner with peptides for all types of hair, hair cream-mask with peptides, cream-soap with peptides, mezotel for baths with essential oils. SPA LINE products include vessel, cartilages, thymus peptides, bioantioxidant Neovitin complex ® and bioflavolipidic Aktivitin complex.
Handmade caring soap renders calming and anti-inflammatory effect. Modern anti-age HPE-4 components, filtrate secretion of a grape snail in a complex with natural oils and plant extracts promote prevention of skin aging, nourish, increase elasticity and moisture, improve skin texture and quality. Possess antiseptic features, softly and carefully purifies skin, recovering it health and comfort.
Effect:
promotes regeneration of damaged tissues
supports the natural skin moistening factor
has anti-inflammatory and bactericidal effect
possesses the calming and antiallergic action
softens and moisturizes

Ingredients:
Saponified Vegetable Oils (Olive Oil, Camelina Oil, Coconut Oil, Palm Oil, Corn Oil, Castor Oil), Glycerin of Vegetable Origin, Water, Olive Oil, Theobroma Cacao Seed Butter, Chlorophyll paste, Chamomilla Recutita Flower, Tilia cordata Flower, Calendula Officinalis Flower, vitamins E, F, Parfum, Tetrahydroxypropyl Ethylenediamine (HPE-4), Helix Aspersa Snail Secretion Filtrate, Complex Glycoderm™ (Honey (and) Phospholipids (and) Sphingolipids (and) Hyaluronic acid).
Ingredients
Cacao butter
The healing properties of this herbal product are due to its rich composition. It contains vitamins and microelements, in addition, the oil is rich in fatty acids, which function as natural antioxidants. It can help with dry skin problems due to the presence of vitamin A, stearic, lauric, palmitic and other acids in the composition. The oil has high anti-allergenic and regenerating properties.
Chamomile flowers
They have a strong bactericidal, anti-inflammatory and sedative effect, as well as stimulate blood circulation. These properties have made chamomile indispensable in the treatment of various inflammatory processes.
Chlorophyll paste
It is rich and contains micro- and macroelements, vitamins (E, D), chlorophyll, carotene, volatile and waxy substances, stearins and other biologically active substances and can be called a phytoncidal multivitamin preparation. Chlorophyll paste stimulates biologically active processes, has stimulating, deodorizing properties. It has a healing wound healing effect.
Filtrate the secretion of vineyards
It is an antioxidant and has powerful regenerating properties: it helps to get rid of scars, scars and stretch marks, fights against sagging skin and the appearance of cellulite, promotes the regeneration of damaged tissues, helps to cope with age spots, significantly improves skin condition with acne, prevents the growth of bacteria, relieves inflammation and burns , great for care after sunbathing.
Glycoderm™
Liposomal polyvalent moisturizing complex, containing hyaluronic acid, honey, phospholipids and sphingolipids. It helps to restore the lipid barrier and supports the natural moisturizing factor of the skin (NMF). Bi-layer of liposome plant products in Glycoderm contains natural flower honey and hyaluronic acid, semi-biotechnological solution.
Linden flowers
They have analgesic, anti-inflammatory, sedative, bactericidal and anti-allergic effects. In addition, it is a powerful antihypoxant and antioxidant.
Marigold flowers
They stimulate the metabolism in skin cells, prevent the formation of free radicals, protect cells from premature destruction, have a bactericidal, disinfectant and wound healing effect. As a natural UV filter, they protect the skin from sunburn and promote skin regeneration.
Olive, castor, camelina, palm oils
Used as a nourishing agent for dry skin. Possessing a very strong nourishing and softening effect, they help to cope with skin problems such as dryness, lack of moisture, flaking, roughness, unevenness and loss of elasticity of the skin. They contain a large amount of vitamins that significantly prolong the youthfulness of the skin and are responsible for its hydration and elasticity. Therefore, if you regularly apply olive oil externally, you can not only provide the skin with adequate nutrition and hydration, but also avoid premature aging.
Vitamin E (tocopherol acetate)
Vitamin E is known for its antioxidant properties. Antioxidants help to protect your body from damaging compounds called free radicals.
Vitamin F
Thanks to its anti-inflammatory effect, it heals wounds and ulcers, stimulates the processes of regeneration and metabolism. Therefore, it is also called the vitamin of beauty, as well as biotin - vitamin H.
НРЕ-4
Refers to a new generation of biogenic amines. This component makes it possible to obtain an anti-age effect, smooth out fine wrinkles, moisturize the skin, increase its elasticity, and significantly improve its texture.