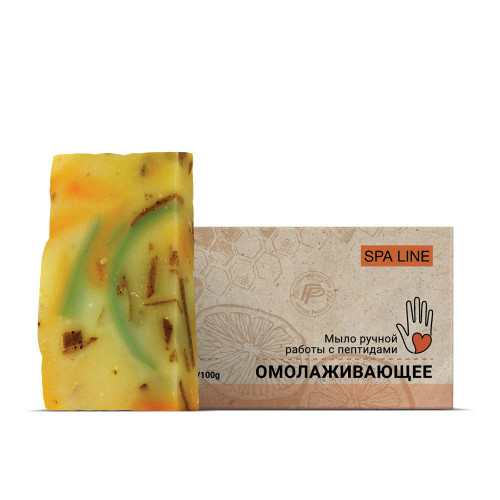 New Out Of Stock
ORDER BY PHONE
We hasten to inform you - now for your convenience we accept orders by phone! Call 210 3808 522 and we will be happy to help you by answering any of your questions.
Handmade anti-aging soap
Stock:

Out Of Stock

Code:

7330042
Handmade anti-aging soap

Bulk 100 g
SPA LINE - series of products meant for home use. The line of professional tools for body and hair care is created considering current trends and the last innovative technologies in SPA-cosmetology field. It includes shampoo and conditioner with peptides for all types of hair, hair cream-mask with peptides, cream-soap with peptides, mezotel for baths with essential oils. SPA LINE products include vessel, cartilages, thymus peptides, bioantioxidant Neovitin complex ® and bioflavolipidic Aktivitin complex.
Handmade rejuvenating soap carefully cleans, recovers, moisturizes the skin, protects it from aging. Highly active GHK-Cu components, HPE-4 and the whole range of plant extracts make skin younger, fresh, elastic and muisturized. Soap tones up and refreshes skin, and also improves mood, gives an energy boost for the whole day.
Effect:
renders regenerating and protective effect
supports the reparative skin potential
moisturizes and nourishes skin
possess the rejuvenating effect
improves elasticity

Ingredients:
Saponified Vegetable Oils (Olive Oil, Camelina Oil, Coconut Oil, Palm Oil, Corn Oil, Castor Oil), Water, Glycerin of Vegetable Origin, Olive Oil, Castor Oil, Beeswax, Grapefruit essential oil, Vitamins E, F, Tetrahydroxypropyl ethylenediamine (HPE-4), Sodium Lactate, Sodium PCA, Fructose, Urea, Niacinamide, Inositol, Sodium benzoate, Lactic Acid, Paprika, Chlorophyll paste, Cinnamomum, Coffee seed poeder, Copper Tripeptide-1 (GHK-Cu).
Ingredients
Castor oil
It is primarily used as a nutrient for dry skin. With a very strong nourishing and softening effect, it helps to cope with skin problems such as dryness, lack of moisture, flaking, roughness, unevenness and loss of elasticity of the skin. Castor oil can also be an excellent emollient and soothing agent for sensitive skin.
GHK-Cu (copper tripeptide)
It has a restorative, rejuvenating and protective effect on the skin, regulating the processes of renewal and remodeling of the skin, accelerating the healing of wounds and other injuries, stimulating the synthesis of collagen and glycosaminoglycans in the dermal matrix and maintaining a balance between the processes of their synthesis and destruction, as well as providing direct and indirect antioxidant effects ... It is also able to restore the functionality of damaged skin cells, in particular fibroblasts, and maintain the reparative potential of stem cells.
Grapefruit essential oil
Grapefruit essential oil has a fresh, slightly bitter, citrus flavor, which can be described as sweet and spicy. The main component of grapefruit essential oil is limonene (90–95% of the total volume). In addition, grapefruit ether contains alpha-pinene, sabinen, myrcene, geraniol, linalool, citronellol. Grapefruit essential oil has a general tonic and restorative effect, activates metabolic processes, endocrine and autonomic regulation. The adaptogenic properties of the oil help to cope with chronic stress during a period of significant mental stress, increase the ability to concentrate, improve attention, and reduce signs of asthenia and fatigue. This effect is not accompanied by signs of arousal, including euphoria, its manifestation is in the range of physiological norm. Grapefruit essential oil is indicated for asthenia (after injuries, somatic diseases, etc.), overwork, to accelerate adaptation (physical and mental stress, changing living and working conditions, the influence of adverse factors).
NMF of Lactone
Natural moisturizing factor (NMF) of Lactone - Allows the stratum corneum to retain moisture under the drying effect of the environment, protecting the skin from cracking and flaking. This component contains only 1 amino acid - glycine, but it has a very balanced composition of moisturizing components. The natural moisturizing factor perfectly improves the appearance of the skin and stimulates its basic functions. It promotes the regeneration of the skin, improves the protective function and smoothes the visual manifestations of age, helps to moisturize the skin, helps to retain water in it and makes it more elastic and healthy.
Vitamin E (tocopherol acetate)
Vitamin E is known for its antioxidant properties. Antioxidants help to protect your body from damaging compounds called free radicals.
Vitamin F
Thanks to its anti-inflammatory effect, it heals wounds and ulcers, stimulates the processes of regeneration and metabolism. Therefore, it is also called the vitamin of beauty, as well as biotin - vitamin H.
НРЕ-4
Refers to a new generation of biogenic amines. This component makes it possible to obtain an anti-age effect, smooth out fine wrinkles, moisturize the skin, increase its elasticity, and significantly improve its texture.