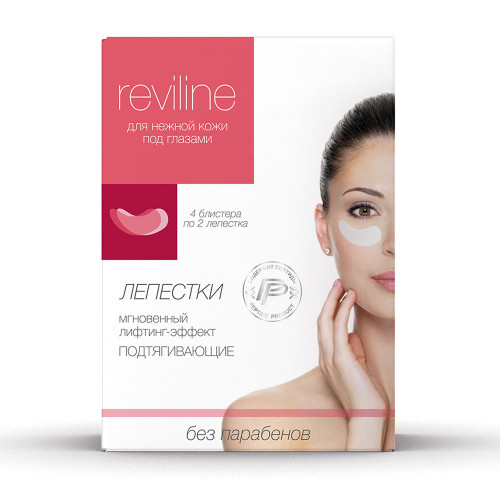 Out Of Stock
ORDER BY PHONE
We hasten to inform you - now for your convenience we accept orders by phone! Call 210 3808 522 and we will be happy to help you by answering any of your questions.
Eye petals with lifting effect
Stock:

Out Of Stock

Code:

7323022
Eye petals with lifting effect

Bulk 4 blisters by 2 petals
Eye petals with lifting effect - innovative cosmetic remedy for emergency help to gentle skin around eyes.
Due to active components and modern manufacturing techniques petals render instant lifting effect, acting in deep skin layers.
Effect:
Petals stimulate tissue regeneration processes, strengthen collagenic skin structure and increase elasticity, moisturize gentle eye skin and increase skin immunity, possess antioxidant and antistress action. Visible rejuvenation effect is reached instantly.
Ingredients:
Base: rayon, polyester;
Gel: aqua, sorbitol, xanthan gum, chondrus crispus, glucose, glycerin, phenoxyethanol, ethylhexylglycerin, prunus amygdalus dulcis seed extract, acrylates /С10-30 alkyl acrylate crosspolymer, triethanolamine, hydrolyzed collagen, xanthan gum, sodium hyaluronate, peptide complex A-4, A-6; parfum.
How to apply:
Clean face skin. Take a wet petal from the blister, unbend a corner of foil and pull. Apply a petal on dry skin under eyes, carefully smooth it with finger-tips, moving towards to temples. Remove after 15-30 minutes, do not wash away the rest. Petals can be applied in the afternoon and in the evening, but not later than 2 hours before bedtime. Recommended procedure`s frequency - 1-2 times a week.
Ingredients
Collagen
A building protein of connective tissue responsible for the firmness and elasticity of the skin. Collagen hydrosalite replenishes the age-related loss of this protein, restores skin tone, moisturizes it and increases turgor, smoothes wrinkles.
Hydromoist Plus
Hydromoist Plus, a hydrating complex based on algae polysaccharides and glucose, retains moisture in the deep layers of the skin for a long time.
Peptide complex A-4
They regulate metabolic processes in connective tissue, stimulate the regeneration of fibroblasts and keratinocytes, prevent destructive changes in the collagen structure of the skin, enhance the collagen structure and effectively tighten the skin, activating protein synthesis in skin cells, stimulating the synthesis of normal collagen in fibroblasts, increasing cell tolerance to hypoxia.
Peptides complex A-6
They stimulate the processes of tissue regeneration, the synthesis of tissue-specific proteins, the proliferative and metabolic activity of cells, accelerating the renewal of cells of various tissues, activate the functions of the cells of the connective tissue, strengthen the collagen structure of the skin and increase its elasticity; have anti-inflammatory effect, accelerate wound healing; have antioxidant, immunostimulating and anti-stress effects.
Polylift
Polylift sweet almond seed extract provides the effect of instant tightening and smoothing of the skin microrelief.
Sodium hyaluronate
Stimulates intercellular skin hydration and the formation of collagen fibers, maintaining skin tone. Its one molecule is able to hold up to 500 water molecules, effectively moisturizing the skin and preventing its age-related changes.