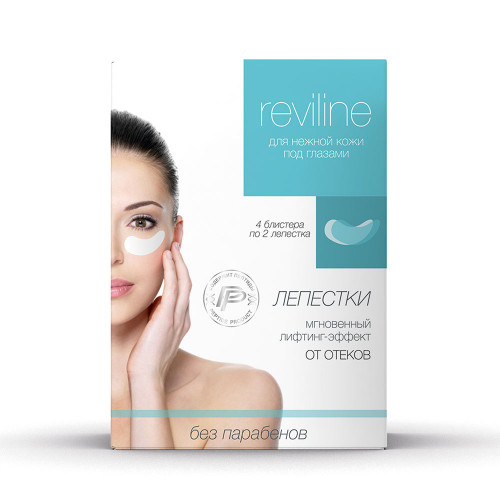 Out Of Stock
ORDER BY PHONE
We would to inform you that we accept orders by phone! Call 210 3808 522 and we will be happy to help you by answering any of your questions.
Eye petals against puffiness
Stock:

Out Of Stock

Code:

7323012
Eye petals against puffiness

Bulk 4 blisters by 2 petals
Antiedemic eye petals - innovative cosmetic remedy for emergency help to gentle skin around eyes. Due to active components and modern manufacturing techniques petals promote instant disappearance of hypostases and swellings, acting in deep skin layers.
Effect:
Petals normalise vessel tone, restore broken microcirculation, strengthen collagenic skin structure and increase elasticity, moisturize gentle skin around eyes, possess antioxidant and antistress. Visible rejuvenation effect is reached instantly.

Ingredients:
Base: rayon, polyester;
Gel: aqua, sorbitol, glycerin, phenoxyethanol, ethylhexylglycerin, acrylates/С10-30 alkyl acrylate crosspolymer, saccharomyces cerevisiae extract, triethanolamine, xanthan gum, sodium hyaluronate, peptide complex A-3, parfum.

How to apply:
Clean face skin. Take a wet petal from the blister, unbend a corner of foil and pull. Apply a petal on dry skin under eyes, carefully smooth it with finger-tips, moving towards to temples. Remove after 15-30 minutes, do not wash away the rest. Petals can be applied in the afternoon and in the evening, but not later than 2 hours before bedtime. Recommended procedure`s frequency - 1-2 times a week.

Ingredients
Actiflow
The Actiflow® yeast extract strengthens the capillary system and stimulates blood circulation, eliminating puffiness, and reduces hyperpigmentation around the eyes.
Sodium hyaluronate
Stimulates intercellular skin hydration and the formation of collagen fibers, maintaining skin tone. Its one molecule is able to hold up to 500 water molecules, effectively moisturizing the skin and preventing its age-related changes.
Vascular peptides (A-3)
They regulate metabolic processes in the vascular wall, normalize vascular tone, restore disturbed microcirculation in organs and tissues under the influence of unfavorable environmental factors and emotional stress.