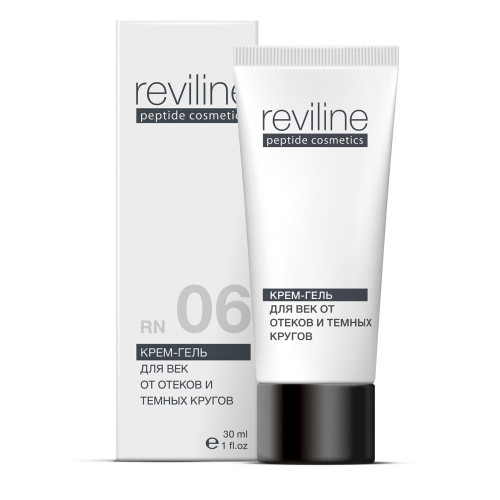 ORDER BY PHONE
We would to inform you that we accept orders by phone! Call 210 3808 522 and we will be happy to help you by answering any of your questions.
RN06
Stock:

In Stock

Code:

7321062
Cream-gel with peptides for puffiness and dark circles (RN06)

Bulk 30 ml
Intensive eye care cream with A-3, A-4 and A-6 peptide complexes and Neovitin.
A unique peptide series of
cellular
REVILINE® cosmetics
take the leading positions among skin care products, having expressed anti-age effect. Formulas of creams are developed considering the latest innovations in world cosmetology.
The line includes a number of natural peptide complexes with various points of application having effective rejuvenating effect on skin. Due to effect of natural peptides metabolism in skin cells is restored and remains at optimum physiological level. Skin texture, color and moisture improves, lifting effect is reached.
Cream-gel with peptides for puffiness and dark circles - exclusive cosmetic remedy with perfectly selected components for reduction of puffiness and dark circles manifestations.
The cream has extremely high penetration and soaking-up ability, hypoallergenic, suitable for sensitive skin. It calms and regenerates gentle eye skin, removes marks of fatigue, gives it delicate care and freshness, protects from aggressive environment influence.
Contains peptides - pancreas, vessels, osteoarticular tissue, thymus.
Effect:
sslows down skin aging processes
impoves trophicity of skin around eyes
reduces puffiness and expressiveness of dark circles under eyes
moisturizes and nourishes
improves texture
gives even and healthy color
smoothes small wrinkles in eye corners
possesess expressive antioxidant action
relieves irritation and calms skin
lifting effect

Ingredients:

Aqua, glycerin, caprylic/capric triglyceride, panax ginseng cell culture extract (Neovitin®), vitis vinifera seed oil, butyrospermum parkii butter, olea europaea fruit oil, glyceryl stearate, cyclomethicone, dimethicone, sponge extract, hamamelis virginiana bark/leaf/twig extract, stearic acid, palmitic acid, potassium cetyl phosphate, cetearyl alcohol, phenoxyethanol, ethylhexylglycerin, peptidе complex A-1, A-3, A-4, A-6, saccharomyces cerevisiae extract, mica, titanium dioxide, triethanolamine, citric acid, xanthan gum, silver citratе, acrylates/C10-30 alkyl acrylate crosspolymer, BHT, parfum, butylphenyl methylpropional, hydroxyisohexyl 3-cyclohexene carboxaldehyde.

How to apply:

Small amount of cream apply on clean eye and eyelid skin and rub in by massing movements till full absorbtion. Prevent contact with eyes.

Ingredients
Neovitin
The bioantioxidant complex Neovitin is extracted according to the original technology from the own ginseng biomass strain cultivated by the biotechnological method. New technology allows you to achieve the most complete extraction of a complex of antioxidants without losing their activity. The bioantioxidant complex Neovitin has an antioxidant anti-inflammatory, immunostimulating effect due to panaxosides and the specific polysaccharide panaxan. The synergistic effect of the active components of the complex contributes to the development of antioxidant enzymes and interferon in the body, which inhibit the lipid peroxidation (destruction) reaction of the blood vessel cell membrane membranes, strengthen them, and thereby increase the body's resistance, including premature aging. Neovitin controls the formation and leads to a physiological norm, the number of the main provocateurs of premature aging - free oxygen radicals formed during the life of the body. He is also the main agent for their neutralization. The complex is stable during storage and has a high penetrating ability through the dermis and mucous membrane. It is proved: Neovitin has an anti-inflammatory and regenerative effect, which determines its widest use in anti-aging skin products and therapeutic and prophylactic products for oral care. The unique properties of Neovitin are confirmed by 11 patents for inventions and awarded with gold medals of the Russian Academy of Natural Sciences. I.I. Mechnikov "For the practical contribution to strengthening the health of the nation" and P. Erlich of the European Commission for Academic Awards "For special merits in the field of social and preventive medicine"
Silver citrate
The antimicrobial activity of silver has been known to mankind for over 100 years: silver is an effective antimicrobial agent, use is safe for human health, natural biocide, a variety of technologies based on the use of silver have been successfully used in medicine and other (technical) fields including water treatment, wound dressing, etc. The use of silver in cosmetics has not yet been so successful because of the limited compatibility and stability of silver-based products on the market in cosmetics, which led to precipitation, discoloration, and reduced efficiency.
Witch hazels
In process