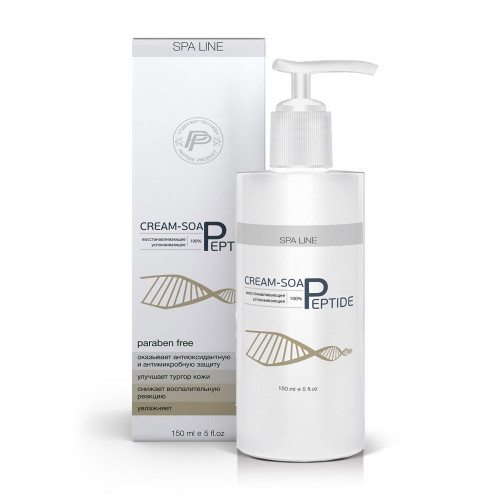 New
ORDER BY PHONE
We hasten to inform you - now for your convenience we accept orders by phone! Call 210 3808 522 and we will be happy to help you by answering any of your questions.
Cream-soap peptide
Stock:

In Stock

Code:

7330033
Cream-soap peptide

Bulk 150 ml
SPA LINE - series of products meant for home use. The line of professional tools for body and hair care is created considering current trends and the last innovative technologies in SPA-cosmetology field. It includes shampoo and conditioner with peptides for all types of hair, hair cream-mask with peptides, cream-soap with peptides, mezotel for baths with essential oils. SPA LINE products include vessel, cartilages, thymus peptides, bioantioxidant Neovitin complex ® and bioflavolipidic Aktivitin complex.
Cream-soap is unique in fighting against irritations, dryness, peeling and reddening of the skin. Effectively cleans and disinfects, tones up and calms skin, recovering health and softness. Thymus peptides stimulate regeneration of skin cells, strengthen collagenic structure and increase elasticity, possess antioxidant action. Cartilage peptides promote skin tightening, regulate metabolism processes in the connective tissues.

Effect:
softens ans moisturizes skin,
protects skin from the aggressive environment influence,
possesses antibacterial action,
promotes faster healing of small wounds,
improves elasticity,
renders rejuvenating action.

Ingredients:
Purified water, sodium methyl cocoyl taurate, cocamidopropyl betaine, sodium cocoamfoacetate, diethanolamides of cocanut oil fatty acids, styrene/acrylate copolymer, acrylates/palmeth-25 acrylate copolymer, glycerin, bioflavolipid complex "Aktivitin", polyquaternium 7, triethanolamine, methylisothiazolinone and methylchloroisothiazolinone, peptide complexes A-4, A-6, perfume, BHT.

Ingredients
Activitin
The Activitin bioflavolipid complex is a two-phase extract of medicinal plants of the northern and middle stripes of Russia (sage, chamomile, calendula, St. John's wort), obtained by the original technology. The technology of two-phase extraction, in contrast to other known extraction methods, ensures the extraction of the full native complex of biologically active substances. It accelerates the regeneration processes in the skin, reduces the severity of inflammatory reactions, protects against the damaging effects of ultraviolet radiation, has a tonic effect on the skin and blood vessels, which is manifested in a decrease in the permeability of blood vessels and increase the strength of their walls, improves blood microcirculation, preventing the appearance of vascular networks on the skin.