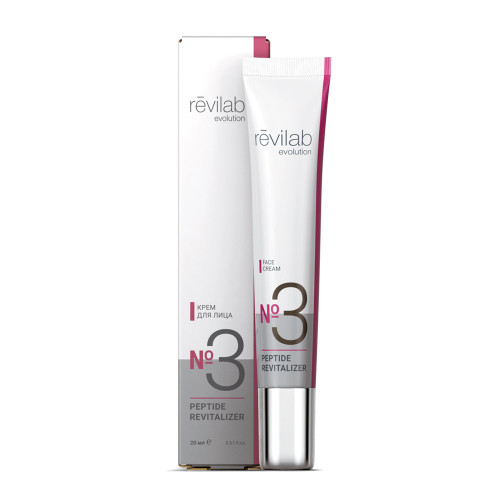 ORDER BY PHONE
We would to inform you that we accept orders by phone! Call 210 3808 522 and we will be happy to help you by answering any of your questions.
Peptide Revitalizer №3
Stock:

In Stock

Code:

7310072
Peptide Revitalizer №3

Bulk: 20 ml
A highly effective cream based on synthetic peptides, strengthens and nourishes the skin with energy, struggle against dehydration, dullness, wrinkles and other visible signs of aging. The major objective is to restore the natural power and vitality of skin and to erase signs of age-related changes and signs of fatigue.
The modern complex of peptides quickly recovers damaged DNA cells and promotes regeneration of the skin matrix. The synergy of low molecular weight hyaluronic acid and plant extracts helps to rejuvenate and nourish the skin.

Effect:
reduces the number and depth of wrinkles,
regulates the moisture balance of the skin,
eliminates first signs of aging skin,
effectively fights signs of fatigue,
encourages the "cell respiration" and fills the skin with energy,
restores skin firmness and elasticity.


How to apply:
Morning and/or evening apply with light massage movements to cleansed face and neck.

Ingredients
Amaranth seed extract
It has a vitaminizing, nourishing and detoxifying effect on the skin, promotes the regeneration of skin cells and smooths out wrinkles.
Low molecular weight hyaluronic acid
Moisturizes the skin at the level of the epidermis and dermis. Essential polyunsaturated fatty acids of evening primrose oil restore the structure of the epidermis, have a regenerating effect.
Thermostressine®
The "anti-stress" asset is aimed at improving cell vitality and preparing for the harmful effects of the environment.
Unirepair T-43 Complex and Dermaxyl® Peptide
Significantly increases the rate of recovery of cell DNA damage and helps to restore damage to the skin matrix, reduces the effects of harmful environmental influences.
НРЕ-4
Refers to a new generation of biogenic amines. This component makes it possible to obtain an anti-age effect, smooth out fine wrinkles, moisturize the skin, increase its elasticity, and significantly improve its texture.
СО₂-extract of pomegranate seeds
It has a pronounced anti-aging and antioxidant effect, improves skin tone.