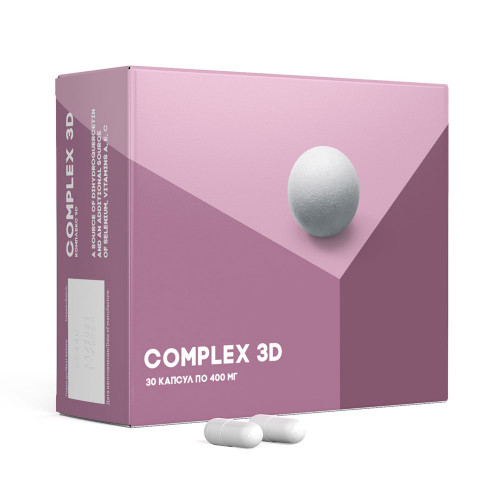 New
ORDER BY PHONE
We would to inform you that we accept orders by phone! Call 210 3808 522 and we will be happy to help you by answering any of your questions.
COMPLEX 3D
Stock:

In Stock

Code:

7210241
COMPLEX 3D - Сomplex "2 in 1" preparation based on detoxicants and antioxidants

Bulk: 30 capsules by 0,4g
Сomplex "2 in 1" preparation based on detoxicants and antioxidants. Due to the presence of such active ingredients as tripeptide glutathione, SOD and catalase, dihydroquercetin, the drug is able to solve several problems at once: slow down the aging at the cellular level, prevent intoxication caused by the glycation process, provide regenerative, anti-inflammatory, immunoprotective and angio- and hepatoprotective effects.
Preparation is aimed at accelerating the second phase of detoxification. Reduces the level of chronic inflammation in the connective tissue and vascular wall, which is especially important for atherosclerosis, phlebitis.
Recommended:
for varicose veins,
for the prevention of atherosclerosis and hypertension,
for liver dysfunction,
chronic intoxication,
chronic inflammation syndrome (damage to the elements of the connective tissue in the joints, skin, blood vessels),
for oxidative stress,
diseases of the cardiovascular system,
for the prevention of accelerated aging.

Ingredients:
MCC (carrier), gelatin capsule (food gelatin, food coloring E171), ascorbyl palmitate (vitamin C), brewer's yeast, enriched with selenium, L-cysteine, dihydroquercetin, lactose (filler), catalase, mixture of tocopherols (vitamin E), barley extract (contains superoxide dismutase), calcium stearate (the flowing agent), retinol palmitate (vitamin A), glutathione, silicon dioxide (the flowing agent).
How to apply:
For adults - 1 capsule per day during meals. Intake duration is 4–6 weeks. If necessary, you can repeat the course. There may be repeated practices during the year.