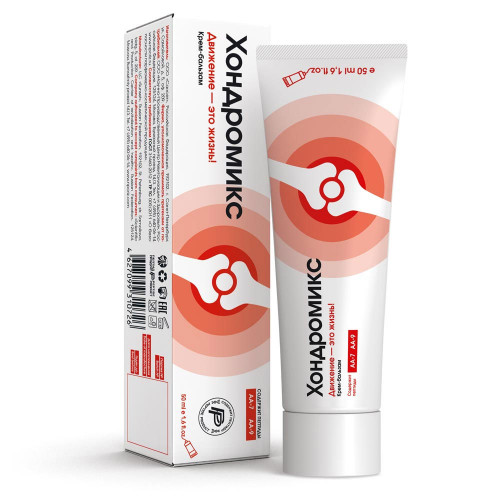 Hot
ORDER BY PHONE
We hasten to inform you - now for your convenience we accept orders by phone! Call 210 3808 522 and we will be happy to help you by answering any of your questions.
Chondromix balm-cream
Stock:

In Stock

Code:

7210652
Chondromix balm-cream - Chondroprotector, sedative agent for joints and muscles

Bulk 50 ml
Cream-balm on the basis of cartilages and vessels peptides softly and carefully eliminates pain syndrome, improving local blood circulation, nutrition of joint and trophicity of periarticular tissues. Penetration of active components directly to inflamed areas removes spasms of paraarticular muscles, which are activating pain receptors.
The first thing to do in case of pain developing – release muscular block, restore normal blood circulation to provide joints full value nutrition. 'Chondromix', possessing relaxing action, restores blood circulation, releases hypostases, compressing nerve ending, and returns mobility and ease to joints.
Recommended:
arthritises,
arthroses,
neuralgia,
pain syndrome, inflammation and puffiness of joints and muscles,
consequences of injuries.

Ingredients:
Water, ethylhexyl cocoate, olive oil, cyclomethicone, cetearyl isonanoate (and) ceteareth-20 (and) cetearyl alcohol (and) glyceryl stearate (and) glycerin (and) ceteareth-12 (and) cetyl palmitate, stearic acid, extract cowberry, extract boswelia, extract hot pepper, camphor, menthol, sodium carbomer, juniper essential oil, eucalyptus essential oil, rosemary essential oil, peptide complex AA-9, peptide complex AA-7, phenoxyethanol, ethylhexylglycerin.

How to apply:
Apply on clean skin of problem areas 2-3 times a day by easy circular movements till full absorption.
Ingredients
Boswellia extract
Slows down the destruction of cartilage, reduces pain and morning stiffness of the joints, has antiseptic and anti-inflammatory properties. Improves capillary blood circulation and joint nutrition, activates regenerative processes in bone and cartilage tissue. Boswellic acids prevent the production of special enzymes that destroy cartilage, reduce the urinary excretion of structural components of cartilage tissue, such as hydroxyproline, hexosamines and uronic acid, slowing down the destruction of cartilage and accelerating the recovery processes. This action of the plant is directly related to the reduction of pain and swelling of the joints. Boswellia is traditionally used as an anti-inflammatory agent for the treatment of inflammatory diseases of muscles, joints and nerves. The active active components of the resin are terpene b-boswellic acids, which have low toxicity and pronounced anti-inflammatory activity. It has been established that the anti-inflammatory effect of Boswellia serrata resin is due to the inhibition of 5-lipoxygenase, an enzyme that converts arachidonic acid into leukotrienes - anti-inflammatory eicosanoids. In Ayurveda, boswellia is used as an anti-inflammatory agent for joint pain and arthritis. In India, she is called the "fighter against inflammation." It has anti-inflammatory, analgesic, antiseptic properties. Boswellia is a safe drug, even with long-term use, does not give side effects, unlike steroid and non-steroidal anti-inflammatory drugs. Improves blood supply to joints and strengthens blood vessels, which is important for arthritis.
Camphor
Possesses a wide range of medicinal properties. When applied externally in the area of joints, it has an antiseptic, cooling-warming, analgesic and anti-inflammatory effect, dilates blood vessels and improves the trophism of periarticular tissues.
Cartilage Peptides
Short peptides of cartilage and bone tissue have a selective effect on various cells of these tissues, normalize metabolism in cells and regulate the functions of joints and spine.
Essential oils of juniper and rosemary
They have anti-neuralgic and antirheumatic effects. Due to the high penetrating ability and the speed of inclusion in the blood circulation, the therapeutic effect occurs quite quickly. Juniper berries contain an essential oil, which contains substances such as terpineol, terpenes, camphene, cadinene, pinene, borneol and others. Juniper oil contains important organic acids - acetic, formic and malic; trace elements - iron, manganese, aluminum, copper. Rosemary has a wide spectrum of antiseptic, anti-inflammatory, regulating properties, which are fully transferred to the essential oil made from rosemary leaves. One of the main advantages of rosemary is its analgesic and antispasmodic effect. At the same time, this unique essential oil is hardly the only one that does not create a sedative effect when relieving pain. It works well for both muscle pain and muscle fatigue and stiffness.
Extract Comarum
Rhizomes of cinquefoil contain tannins, flavonoids, organic acids, essential oils, thanks to which it has an analgesic, anti-inflammatory, biostimulating and regenerating effect, promotes the removal of salt deposits, forms and maintains the structure of cartilage tissue, restores the composition of the synovial fluid, which helps to improve the basic functions of the joints ... The cinquefoil improves the functional state of the musculoskeletal system, has a positive effect on disorders of the mobility of the joints (restores their mobility) and the spine, relieves pain from tearing when lifting weights, rheumatic pains. It helps to reduce the severity of the inflammatory process and suppress the processes of free radical oxidation (this increases the activity of the body's antioxidant defense system), activates the renewal of body cells, cleanses the body of harmful substances, and increases immunity.
Hot pepper extract
The components of hot pepper enhance blood circulation, improve metabolic processes, have a warming, analgesic and anti-inflammatory effect.
Menthol
It has a cooling and stimulating effect on nerve endings. Performs the so-called "capillary massage", which leads to an improvement in blood circulation and metabolic processes, reducing pain caused by inflammation.
Vascular Peptides
Vascular short peptides have a selective effect on various cells of the vascular wall, normalize cell metabolism and regulate the functions of the vascular system.