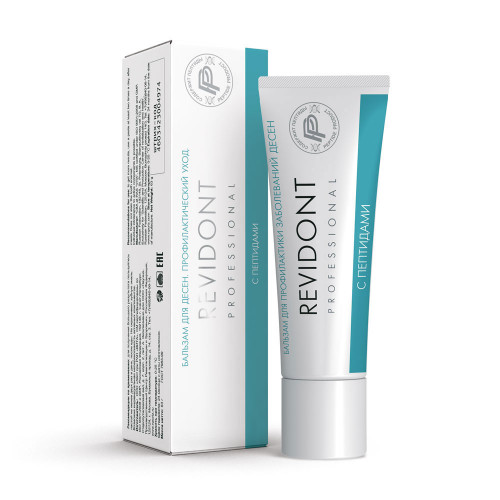 New
ORDER BY PHONE
We hasten to inform you - now for your convenience we accept orders by phone! Call 210 3808 522 and we will be happy to help you by answering any of your questions.
Balm for gums with peptides
Stock:

In Stock

Code:

7510013
Balm for gums with peptides
Bulk 15 ml
Effective for gum strengthening, possesses the immunostimulating action. Renders regenerating effect to a jaw bone tissue, accelerates soft tissue restoration process at parodontosis, stomatitis and gingivitis, strengthens teeth structure and stimulates enamel synthesis, improves microcirculation and trophicity of mouth tissues, reducing gum bleeding.
Gum balm with peptides and Neovitin® has natural origin, possess hygienic and unique, treatment-and-prophylactic features. Gum balm reduces pains and gum puffiness, prevents bleedings and inflammations. Balm is very effective at such diseases as parodontosis, and also at the diseases which have developed after carrying dental prosthesis and dental crowns.
Regular application provides purposeful effect of balm.
Effect:

prevention of gum diseases,
agent for gum care when carrying dentures,
powerful anti-inflammatory action,
powerful regenerating action,
protection against bleedings,
renders calming effect,
eliminates puffiness,
reduces teeth hypersensibility.

Ingredients: Purified water, glycerin, bioantioxidant complex "Neovitin®", PEG-40 hydrogenated castor oil, phenoxyethanol and ethylhexylglycerin, acrylates/C 10-30 alkylacrylate copolymer, sodium hydroxide, saccharin, flavor, menthe piperita oil, EDTA, peptide complexes: A-3, A-4, A-6.

How to apply: After each toothbrushing rub into gums within 1-2 minutes using soft toothbrush or by a finger-tip. Within 15 minutes refrain from meal and mouth rinsing. Apply balm on gums by massing movements. For prevention purpose apply 1-2 times a day (in the morning and in the evening). At gum diseases apply 2-3 times during the day. When carrying removable dentures, apply before denture placing and before bedtime.
Safe at ingestion.

Ingredients
Neovitin
The bioantioxidant complex Neovitin is extracted according to the original technology from the own ginseng biomass strain cultivated by the biotechnological method. New technology allows you to achieve the most complete extraction of a complex of antioxidants without losing their activity. The bioantioxidant complex Neovitin has an antioxidant anti-inflammatory, immunostimulating effect due to panaxosides and the specific polysaccharide panaxan. The synergistic effect of the active components of the complex contributes to the development of antioxidant enzymes and interferon in the body, which inhibit the lipid peroxidation (destruction) reaction of the blood vessel cell membrane membranes, strengthen them, and thereby increase the body's resistance, including premature aging. Neovitin controls the formation and leads to a physiological norm, the number of the main provocateurs of premature aging - free oxygen radicals formed during the life of the body. He is also the main agent for their neutralization. The complex is stable during storage and has a high penetrating ability through the dermis and mucous membrane. It is proved: Neovitin has an anti-inflammatory and regenerative effect, which determines its widest use in anti-aging skin products and therapeutic and prophylactic products for oral care. The unique properties of Neovitin are confirmed by 11 patents for inventions and awarded with gold medals of the Russian Academy of Natural Sciences. I.I. Mechnikov "For the practical contribution to strengthening the health of the nation" and P. Erlich of the European Commission for Academic Awards "For special merits in the field of social and preventive medicine"
Peppermint essential oil
The main effect of peppermint oil is to stimulate the nervous system. It has vasoactive properties - it regulates the venous-arterial tone, promotes the outflow of blood through the external veins, and when taking nitroglycerin prevents an increase in the tone of the intracranial veins. It is also a mild aphrodisiac. Peppermint essential oil also has analgesic, antiseptic, antispasmodic, antioxidant, bactericidal, healing, tonic, vasodilating, resorbing, stimulating, expectorant, diaphoretic and carminative effects. The choleretic property of peppermint essential oil is associated with the presence of polyphenols in its composition. With bile, bilirubin and cholesterol are secreted, the exocrine function of the liver is enhanced under the influence of mint oil. Mint essential oil is used to treat colds, various inflammations of the upper respiratory tract, flu, runny nose, bronchitis.
Peptide complexes А-3, А-4, А-6
Peptide complex А-3: strengthens capillary walls, improves microcirculation and nutrition of periodontal tissues, reduces gum bleeding. Peptide complex A-4: strengthens the structure of the teeth and stimulates the synthesis of enamel, making the surface smoother and more resistant to bacteria and acids. Peptide complex A-6: has a regenerating, trophic, immunostimulating and antimicrobial effect, accelerates the regeneration and healing of the oral mucosa and periodontal tissues. Strengthens the immune defense by activating the IgA antibodies in saliva, increasing resistance to various strains of Streptococcus mutans and helping to reduce their colonies.