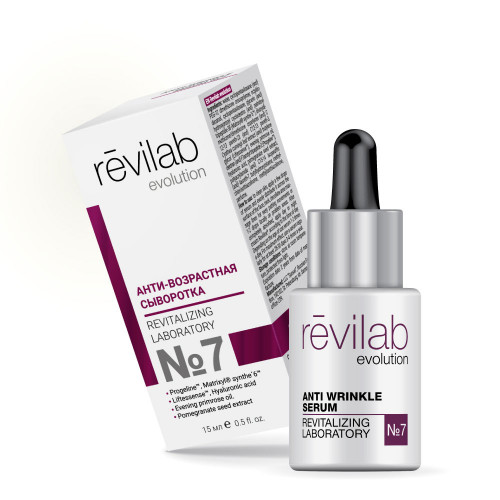 ORDER BY PHONE
We hasten to inform you - now for your convenience we accept orders by phone! Call 210 3808 522 and we will be happy to help you by answering any of your questions.
Anti-wrinkle serum №7
Stock:

In Stock

Code:

7310014
Anti - wrinkle serum Revilab No. 7
Bulk 15 ml
Anti-wrinkle serum Revilab No. 7
is a leader of the Revilab evolution series. This is the modern premium class skin re-enactor. Its` main objective is to return youth, freshness and elasticity to skin. Serum fights against presenilation, improves skin condition and models face form. Also moisturizes and smoothes the skin, considerably reducing deep and mimic wrinkles.
Serum is created on the basis of professional substances - lipopeptids, with the intellectual system of molecule delivery to cells-targets. It works in several stages, weakening influence of the fundamental, genetically programmed factors of aging and helps to eliminate already existing age changes.
Effect:

models a face form;
restores a collagenic framework of skin;
smoothes mimic wrinkles.

Ingredients: Water, cyclopentasiloxane (and) PEG-12 dimethicone crosspolymer, octyldodecanol, cyclopentasiloxane, glycerin (and) hydroxypropyl cyclodextrin (and) palmitoyl tripeptide-38 (Matrixyl® synthe´6™), divinyldimethicone/dimethicone copolymer (and) С12-13 pareth-23 (and) С12-13 pareth-3, Cyathea cumingii leaf extract (and) butylene glycol (Liftessense™), evening primrose oil, dextran (and) F3acetyl tripeptide-2 (Progeline™), hyaluronic acid, pomegranate seed extract, polyacrylamide (and) C13-14 isoparaffin (and) laureth-7, butylhydroxytoluene, methylchlorisothiazolinone, methylisothiazolinone, perfume.
How to apply: Apply several drops of serum to previously cleaned skin and evenly distribute over the surface of face, neck, area of decollete on massage lines by easy patting movements or 1-2 drops locally, on problem areas of skin. After full absorption apply day or night cream, according to time of day.
Depending on age use serum 1-2 times a day. To achieve a maximum effect use serum regularly not less than 28-30 days 3-4 times a year.

Ingredients
Evening primrose oil
Evening primrose oil has a pronounced anti-aging and revitalizing effect. It is an effective component for the care of dry, sensitive skin prone to early fading. Due to the high content of unsaturated fatty acids, it intensively nourishes the cells of the epidermis and dermis, has a softening and moisturizing effect. In addition, this component helps to cope with irritation and redness of the skin.
Liftessense™
Liftessense ™ is an innovative biotechnological complex derived from the extract of the large tree fern (Chyathea Cumingii). It is included in the serum to give an instant lifting effect.
Low molecular weight hyaluronic acid
Low molecular weight hyaluronic acid - the most important component of the serum, affects the rate and quality of the synthesis of collagen and elastin fibers that form the skeleton of the skin, ensuring its firmness, elasticity, and, consequently, youth. In addition, the most important function of hyaluronic acid is its unique ability to attract and retain water in tissues.
Matrixyl® synthe´6™
Matrixyl® synthe´6 ™ - another highly effective peptide included in serum formulations, is an effective anti-aging active ingredient. Its use helps to prevent the appearance of wrinkles, and also reduces the severity of existing facial wrinkles by restoring the skin in places of damage. It evens out the skin's relief, moisturizes and tones it, making it firm and elastic.
Pomegranate Seed Extract
Pomegranate seed extract contains phytoestrogens, essential polyunsaturated fatty acids, tocopherols, biologically active substances - phytoncides, anthocyanins, nitrogenous substances, tannins and organic acids. They have a pronounced rejuvenating effect, stimulate regenerative and self-regulating mechanisms, the result of which is the activation of microcirculation, cellular enzymes, and cell division.
Progeline Peptide
The biomimetic peptide Progeline ™ consists of three amino acids. Its effectiveness is associated with the ability to suppress the synthesis of the main protein of aging - progerin. This slows down the aging process at the cellular level. Peptide Progeline ™ provides the cosmetic product with a complex remodeling effect, clinically improves the signs associated with age-related changes in the skin: reduces sagging and wrinkles, improves the jawline. The skin becomes firmer and tighter, it looks taut.