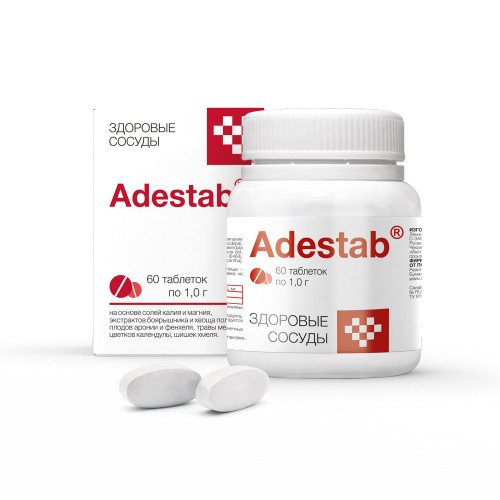 New
ORDER BY PHONE
We would to inform you that we accept orders by phone! Call 210 3808 522 and we will be happy to help you by answering any of your questions.
Adestab
Stock:

In Stock

Code:

7210013
Adestab

Bulk: 60 tablets by 1 g
Despite a lot of ways of prevention a heart attack and cerebral crysis, it is important to keep a vascular wall undamaged. For this purpose has been developed a soft hypotensive and angiotropic medicine "Adestab". Walls of healthy vessels are elastic and smooth, capable to extend and be narrowed depending on need. Adestab improves metabolism in a vascular wall and keeps healthy integrity.
Course use of medicine allows to stabilize arterial blood pressure and essentially reduce the risk of development of vascular complications in organism.
Recommended:
stabilization of arterial blood pressure,

prevention of a heart attack,

prevention of cerebral crysis,

prevention of thrombosis,
prevention of retina damages,
reduction of inflows during climax,
improvement of myocardium trophicity,
reduction of meteodependence.

Ingredients:
Potassium chloride, magnesium citrate, MCC (carrier), powder of the aroma flowers (lot. Aronia melanocarpa), powder of melissa herb (lot. Melissa officinalis), powder of calendula flowers (lot. Calendula officinalis), hop cone powder (lot. Humulus lupulus), powder of fennel seed (lot. Foeniculum vulgare, calcium stearate, hydroxypropyl methyl cellulose (carrier), polyethylene glycol (PEG 4000, glazer)), hawthorn extract, horsetail extract, food coloring titanium dioxide.
How to apply: Adults and children older 14 years - 2 tablets 2 times a day with meal. Duration of reception is 4-6 weeks. Repeated receptions within a year are possible.
Ingredients
Aronia melanocarpa (black chokeberry)
The beneficial properties of chokeberry are due to the content of vitamins A, C, B1, B2, E, P, PP, carotene, manganese, copper, boron, iodine, magnesium, molybdenum, iron, anthocyanates in it. The fruits of black chokeberry contain sugars, folic, nicotinic, malic and other organic acids, riboflavin, phylloquinone, tocopherols, cyanine, pyridoxin, thiamine, tannins and pectin substances. Chokeberry fruits (as well as feijoa fruits) contain a lot of iodine, so they are useful for hypothyroidism. Quercetin derivatives, large amounts of neochlorogenic acid, rutin and hyproside were also found. Dried chokeberry berries are also valuable medicinal raw materials. It was revealed that 3 tablespoons (50 g of dry fruits) of chokeberry contains so much vitamin P, which provides its daily dose with this vitamin deficiency. The astringent taste of "blackberry" reminds that it contains a lot of tannins, organic acids and pectins, which means that it has a great effect on digestion.
Hawthorn fruit
Hawthorn fruits Contains organic sugars (apple, lemon, tartaric, ascorbic, etc.) and triterpene (oleic, ursolic and crategic) acids, tannins, phytosterols, saponins, glycosides and carotene, potassium, magnesium, vitamins B and rutin. Hawthorn is used for heart disease, especially for fatigue of the heart muscle. Hawthorn fruits selectively expand coronary and cerebral vessels, reduce the excitability of the nervous system, increase the supply of oxygen to the heart and brain, improve metabolism, normalize heart rate, eliminate discomfort in the heart area, have a good effect on the general condition, help lower blood cholesterol levels , recover faster after serious illnesses. With prolonged use, they reduce blood pressure in hypertension, relieve dizziness, shortness of breath, insomnia, and help to cope with the problems of menopause.