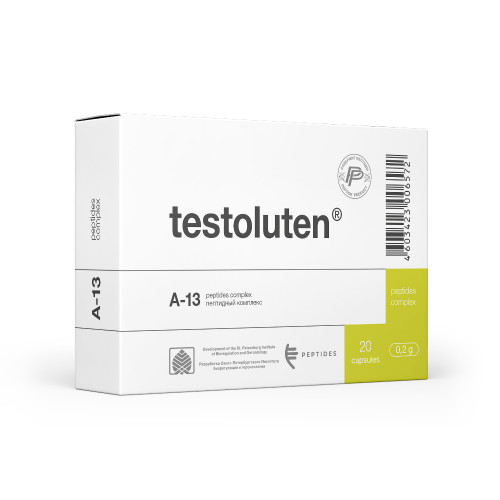 Awaiting EOF's approval Out Of Stock
ORDER BY PHONE
We hasten to inform you - now for your convenience we accept orders by phone! Call 210 3808 522 and we will be happy to help you by answering any of your questions.
Testoluten 20
Stock:

Out Of Stock

Code:

7172161
Testoluten 20 - bioregulator male body

Bulk 20 capsules of 0,2 g
Complex of peptide fractions, acquired from testicles of young animals. Discharged peptides possess selective action to male reproductive system cells, increase functional activity and enhance mobility of spermatozoa.
The efficiency of 'Testoluten' medicine was defined at clinical studying. It is effective for complex restoration of men's reproductive system function, including hypofunction of testicles, after impact of ionizing radiation, at male infertility, after influence of various toxic factors, having negative effect on male reproductive system, at decrease in level of testosterone in blood, and also for men of senior age groups for maintenance of reproductive system function.
Recommended:

increase in functional activity of male organism,

normalization of male hormonal status,

strengthening of libido,

strengthening of erectile function,

normalization of spermatozoa mobility.

Ingredients (Per 1 capsule): peptide complex A-13 (peptides of testicles), microcrystalline cellulose (E460, the flowing agent), gelatin (encapsulating agent), sugar beet (binding filler), lactose (excipient-humectant), starch (stabilizer), tween-80 (emulsifier), titanium dioxide (E171, coloring agent for capsules).
The daily dose contains: (2 capsules), 20 mg of A-13 peptide complex.
How to apply: Adults 1-2 capsules 1-2 times a day, with meal. Course duration - 1 month.

Ingredients
A-13
The complex of peptide fractions A-13 (testis peptides) has a tissue-specific regulatory effect on the cells of the male reproductive system, normalizes their metabolism and restores the functions of the male reproductive system to a physiologically optimal level, preventing the development of pathological conditions in it.