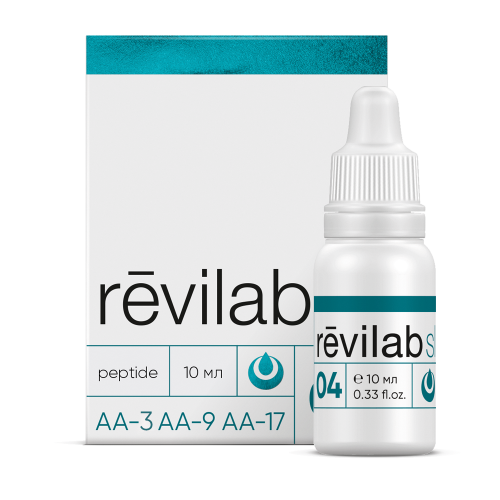 Hot
ORDER BY PHONE
We would to inform you that we accept orders by phone! Call 210 3808 522 and we will be happy to help you by answering any of your questions.
Revilab SL 04
Stock:

In Stock

Code:

7120042
Revilab SL 04 - for musculoskeletal system
Bulk 10 ml
The first series of multicomponent peptide preparations for sublingual application, developed to prevent violations of various systems and organs functioning, correction of already available diseases. Efficiency of similar form of reception is caused by the fact that preparation, getting to hypoglossal space with dense capillary network, is capable to get directly into the blood-groove, passing absorption through digestive tract mucous and metabolic primary liver deactivation. Due to direct hit in system blood-groove, the speed of effect is several times faster than medicine intake peroraly.
Components of preparations - peptides and phytogenesis extracts. They are perfectly combined in Revilab SL preparation sseries and selectively influence the prime cause of diseases, and also effectively prevent organism presenilation.
Revilab SL 04 - contains peptides of immune system B-link, cartilages and muscles.

Ingredients:

Purified water, chamomile extract, xylitol, PEG – 40 hydrogenated castor oil, orange essential oil, taxifolin, licorice extract, propolis extract, peppermint extract, sodium saccharin, peptide complex AA-17, peptide complex AA-9, peptide complex AA-3, potassium sorbate, sodium benzoate, clove essential oil, myristamidopropalkonium chloride, natural flavor "Menthol", eugenol, limonene.

Recommended for:
arthroses and arthritises,
rheumatism,
osteochondrosis,
osteoporosis,
gout,
rehabilitation after injuries.

How to apply: Apply in the morning and in the evening, distributing 5-10 drops to oral mucosa. Natural deposit is acceptable. Shake well before use. Intake duration - 1 month. If necessary, repeated intakes are possible throughout a year.

Ingredients
AA-17
The peptide of muscle, brain tissue (peptide complex AA-17) has the properties of a powerful antioxidant - protects body cells from toxins, free radicals and heavy metals that cause cell oxidation. Stimulates muscle performance, helps get rid of fatigue, resumes muscle contractility.
AA-3
It affects the reactions of cellular, humoral immunity and nonspecific resistance of the body. It stimulates the regeneration processes in the event of inhibition, improves the course of cellular metabolism.
AA-9
Cartilage peptide (peptide complex AA-9) has biological activity, which manifests itself in the normalization of metabolism in bone and cartilage, promotes the regeneration of joints and connective tissues of the skin frame.
Chamomile extract
It has a strong bactericidal, anti-inflammatory and soothing effect, and also stimulates blood circulation. These properties have made chamomile an indispensable tool in the treatment of various inflammatory processes.
Clove essential oil
It has antiviral and antibacterial properties. Able to quickly heal damage in the oral cavity.
Licorice extract
It has a wide range of substances useful to the human body. 27 flavonoids in licorice have a versatile effect on the body - both antispasmodic, wound healing, and anti-inflammatory.
Orange essential oil
Used to care for the oral cavity. The oil fights inflammation and bleeding of the gums, treats stomatitis, and helps with periodontal disease.
Peppermint extract
Contains essential oil, flavonoids, tannins and bitterness - these are the main active ingredients of this plant. The most important component in the essential oil is menthol (up to 60%), which has a light local anesthetic effect.
Propolis extract
Suppresses activity and kills bacteria and viruses, slows the growth of some of them. Propolis fights against diseases of the oral cavity caused by various types of infections, including herpetic, fungal, bacterial nature.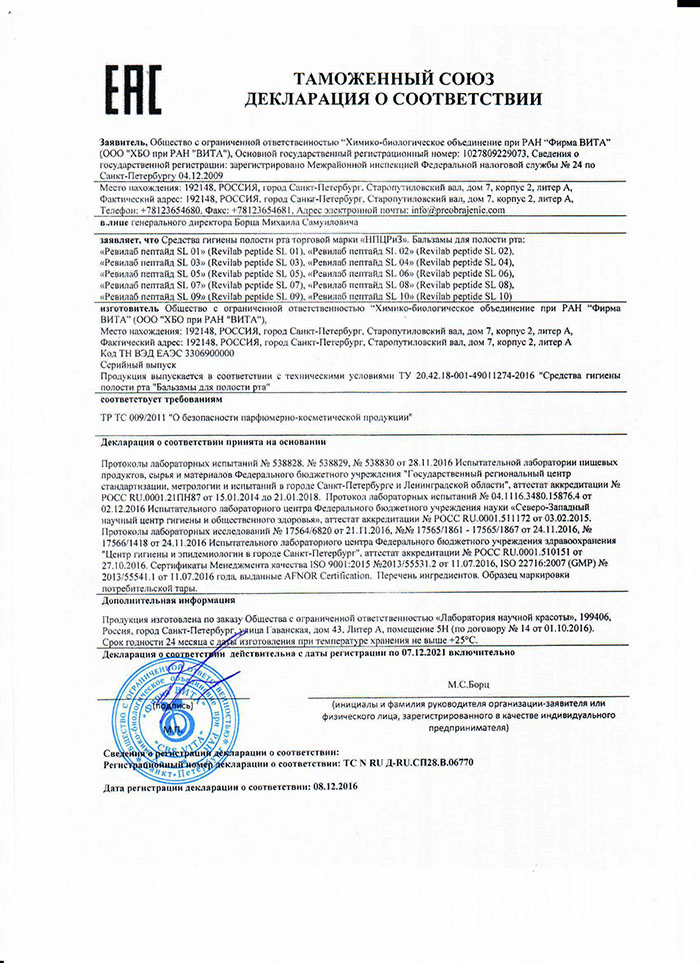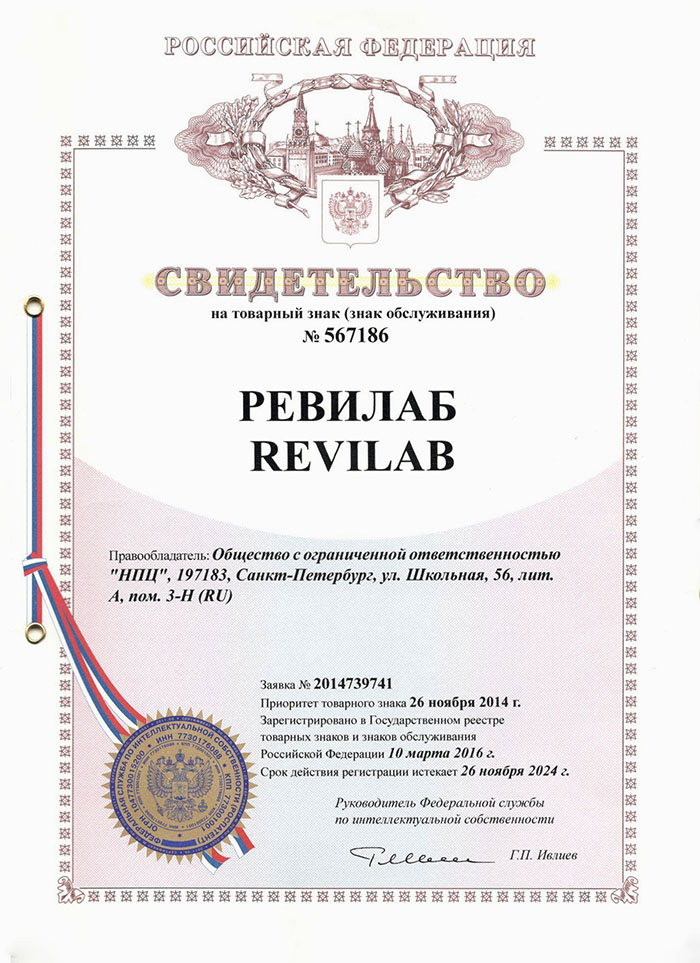 Вы можете скачать лицензии:
Пептидные препараты Revilab SL 1-10 — Декларация о соответствии