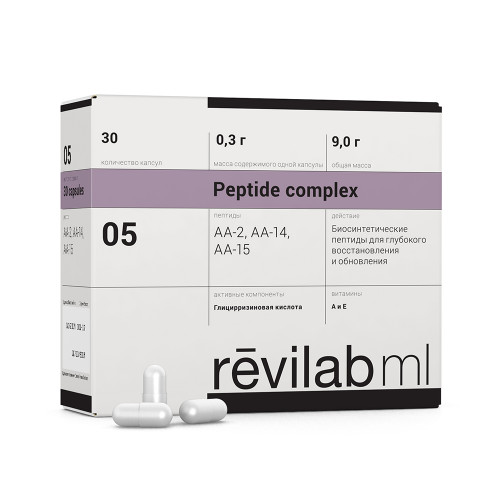 Awaiting EOF's approval
ORDER BY PHONE
We would to inform you that we accept orders by phone! Call 210 3808 522 and we will be happy to help you by answering any of your questions.
Revilab ML 05
Stock:

In Stock

Code:

7110051
Revilab МL 05 - for respiratory system
30 capsules by 0,30 g

Revilab Peptide ML – series of multicomponent peptide preparations, which uniqueness consists in principle of all-in-one action. Action of these new generation bioregulators is directed to delaying aging processes, maintenance of normal level of metabolic processes, prevention and correction of various states; rehabilitation after serious diseases, injuries and operations.
Effective action of Revilab Peptide ML is due to hi-tech formula. Each of 9 preparations contains a number of short peptides, antioxidants and building material for cells. It renders faster effect for various systems of organism, launching internal restoration function.
Ingredients:
MCC (carrier), capsule (gelatin, HPMC, food titan dye dioxide), omega-3 polyunsaturated fatty acids (alpha-linoleic acid, contains carrier sorbitol and maltodextrin), licorice extract, mixure of tocopherols (vitamin E), peptide complex AA-2 (tripeptide consisting of L-glutamic acid, L-aspartic acid and L-proline), calcium stearate (flowing agent), silicon dioxide (the flowing agent), peptide complex AA-14 (tetrapeptide consisting of L-alanine, L-glutamic acid, L-aspartic acid and L-leucine acid) and peptide complex AA-15 (tripeptide consisting of L-glutamic acid, L-aspartic acid and L-glycine), retinol (vitamin A).

Recommended for:
chronic bronchitis,

lung emphysema,

respiratory allergy,

bronchial asthma,

presenilation prevention.

How to apply: Adults by 1 capsule a day, with meal. Course duration is 4-6 weeks. Repeat a course if necessary. Repeated receptions within a year are possible.

Ingredients
AA-14
The bronchial peptide (peptide complex AA-14) helps to reduce the frequency of coughing attacks, eliminate the phenomena of bronchospasm and reduce the amount of sputum being separated.
AA-15
The peptide of the lungs, the walls of the stomach (peptide complex AA-15) restores the functions of the lungs and bronchi in acute and chronic diseases of the respiratory system of infectious and non-infectious origin, as well as the function of the respiratory system in the elderly. A pronounced gastroprotective effect has been established, consisting of an antimicrobial effect in relation to Heliogobacter pylori, which is comparable to antibiotics, which leads to a decrease in the risk of developing gastric ulcer, and if it is present, to accelerate the regeneration processes and complete healing of the ulcer.
AA-2
It has a selective effect on various cells of the immune system, normalizes metabolism in cells and regulates the functions of the immune system.
Licorice root extract
Licorice root extract (glycyrrhizic acid) extracted from licorice root is active against RNA and DNA viruses, including various strains of Varicella zoster, Herpes simplex, cytomegaloviruses, human papillomaviruses. The antiviral effect is associated with the induction of interferon synthesis. A number of biologically active substances were isolated from licorice that lower the level of cholesterol in the blood and contribute to the disappearance of cholesterol plaques in the blood vessels.
Omega-3 polyunsaturated fatty acids
They have a pronounced normalizing effect on lipid metabolism, increase the elasticity of the vascular walls, and contribute to the prevention of heart attacks and strokes, multiple sclerosis. Omega-3 polyunsaturated fatty acids reduce the risk of insulin resistance and diabetes, and are also necessary in the formation of cell membranes, mitochondrial filaments, myelin sheath of nerves, and connective tissues.
Vitamin A (Retinol)
It helps in reproductive function. Participates in the processes of photoreception (vision). The growth and integrity of epithelial tissues, including the mucous membranes of all three channels: respiratory, nutrition and excretion, depend on retinoic acid. Vitamin A also plays an important role in maintaining the structural integrity and function of the digestive tract. Retinol contributes to the conservation of glycogen in the body - the main storage of energy in the body.
Vitamin E (tocopherol acetate)
Vitamin E is known for its antioxidant properties. Antioxidants help to protect your body from damaging compounds called free radicals.