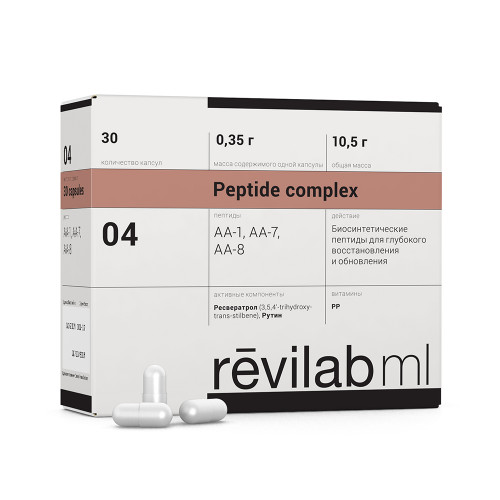 Awaiting EOF's approval
ORDER BY PHONE
We would to inform you that we accept orders by phone! Call 210 3808 522 and we will be happy to help you by answering any of your questions.
Revilab ML 04
Stock:

In Stock

Code:

7110042
Revilab МL 04 - for cardiovascular system
30 κάψουλες των 0.35 g
Revilab Peptide ML – series of multicomponent peptide preparations, which uniqueness consists in principle of all-in-one action. Action of these new generation bioregulators is directed to delaying aging processes, maintenance of normal level of metabolic processes, prevention and correction of various states; rehabilitation after serious diseases, injuries and operations.
Effective action of Revilab Peptide ML is due to hi-tech formula. Each of 9 preparations contains a number of short peptides, antioxidants and building material for cells. It renders faster effect for various systems of organism, launching internal restoration function.
Ingredients:
MCC (carrier), capsule (gelatin, HPMC, food titan dye dioxide), lactose (filler), polyunsaturated fatty acids omega-3 (alpha-linoleic acid, contains medium sorbitol and maltodextrin), resveratrol, nicotinamide, rutin, calcium stearate (flowing agent), peptide complex AA-8 (tetrapeptide consisting of L-alanine, L-glutamic acid, L-aspartic acid and L-arginine), peptide complex AA-1 (tetrapeptide consisting of L alanine, L-glutamic acid, L-aspartic acid and L-glycine), peptide AA-7 complex (tripeptide consisting of L-lysine, L-glutamic and L-aspartic acid), silicon dioxide (flowing agent).

Recommended for:
presenilation prevention,

atherosclerosis and hypertension presenilation,

prevention of heart attack and stroke,

varicosity,

trophic ulcers,

thrombophlebitis,
angiopathies.

How to apply: Adults by 1 capsule a day, with meal. Course duration is 4-6 weeks. Repeat a course if necessary. Repeated receptions within a year are possible.

Ingredients
AA-1
Peptide complex AA-1 (tetarapeptid consisting of L-alanine, L-glutamic acid, L-aspartic acid and L-glycine). It has a selective effect on the cells of the neuroendocrine system, normalizes the metabolism in the cells of the pineal gland and the secretion of melatonin, regulates hormonal metabolism, and has a regulatory effect on the pineal gland, adrenal glands, and the whole organism.
AA-7
Vascular wall peptide (peptide complex AA-7) regulates metabolic processes in the vascular wall. Helps increase the elasticity of blood vessels of the arterial, venous and lymphatic channels. Reduces the risk of damage to the vascular wall, hemorrhage and thrombosis. Improves blood supply to organs and tissues. Stimulates blood formation.
Nicotinamide (Vitamin PP)
It plays an important role in the processes of carbohydrate, protein and fat metabolism. It is necessary for the normal secretion of gastric juice, as well as for intestinal activity, it stimulates the activity of the nervous system and has a positive effect on the function of the endocrine glands. It has the ability to expand the capillaries of blood vessels, which facilitates blood circulation in organs and tissues and a person is protected from cardiovascular disease, thrombosis, hypertension and diabetes. Vitamin PP is also needed to maintain healthy skin.
Omega-3 polyunsaturated fatty acids
They have a pronounced normalizing effect on lipid metabolism, increase the elasticity of the vascular walls, and contribute to the prevention of heart attacks and strokes, multiple sclerosis. Omega-3 polyunsaturated fatty acids reduce the risk of insulin resistance and diabetes, and are also necessary in the formation of cell membranes, mitochondrial filaments, myelin sheath of nerves, and connective tissues.
Resveratrol
It has powerful anti-carcinogenic, hepatoprotective and anti-inflammatory properties. Resveratrol normalizes cell metabolism and enhances oxygen transport, regulates fat metabolism in the liver, strengthens the vascular wall and reduces its permeability, improves blood rheology.
Rutin (Vitamin P)
It is used in the treatment of cardiovascular diseases as an antioxidant and a potential antitumor component. Its properties affect the state of our blood and help platelets not stick together. Vitamin P contributes to the healing of capillaries, and also helps in their work, helps prevent capillary bleeding, strengthens the immune system, is necessary to strengthen the body's natural defense against viruses and infections.
АА-8
The heart muscle peptide (peptide complex AA-8) regulates the cardiovascular system and restores myocardial function. Increases the resistance of the heart muscle to hypoxia, has a moderate antiarrhythmic effect.