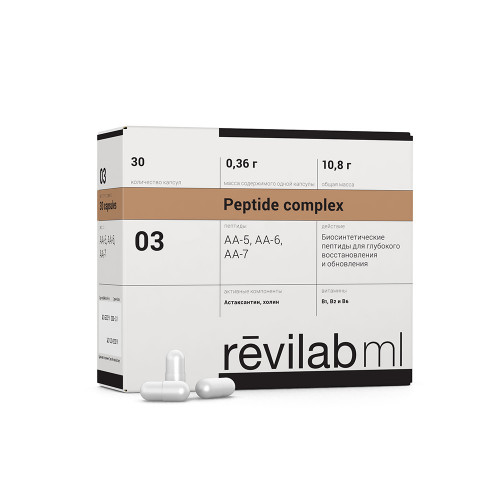 Awaiting EOF's approval
ORDER BY PHONE
We would to inform you that we accept orders by phone! Call 210 3808 522 and we will be happy to help you by answering any of your questions.
Revilab ML 03
Stock:

In Stock

Code:

7110032
Revilab МL 03 - for nervous system and eyes
30 κάψουλες των 0.36 g
Revilab Peptide ML – series of multicomponent peptide preparations, which uniqueness consists in principle of all-in-one action. Action of these new generation bioregulators is directed to delaying aging processes, maintenance of normal level of metabolic processes, prevention and correction of various states; rehabilitation after serious diseases, injuries and operations.
Effective action of Revilab Peptide ML is due to hi-tech formula. Each of 9 preparations contains a number of short peptides, antioxidants and building material for cells. It renders faster effect for various systems of organism, launching internal restoration function.
Ingredients:
Choline bitartrate, capsule (gelatin, HPMC, food grade titanium dioxide), MCC (carrier), polyunsaturated fatty acids omega-3 (alpha-linoleic acid, contains carrier sorbitol and maltodextrin), tagetes extract (contains lutein and zeaxanthin), lactose (filler), gematokokkus extract (contains astaxanthin), calcium stearate (flowing agent), peptide complex AA-5 (tripeptide consisting of L-glutamic acid, L-aspartic acid and L-arginine), peptide complex AA-6 (dipeptide consisting of L-lysine and L-glutamic acid), silicon dioxide (flowing agent), peptide complex AA-7 (tripeptide consisting of L-lysine, L-glutamic and L-aspartic acid), thiamine hydrochloride (vitamin B1), riboflavin hydrochloride (vitamin B2), pyridoxine hydrochloride (vitamin B6).

Recommended for:
inflammatory and degenerative diseases of nervous system,

prevention of eye diseases, also at eyestrain,

retina diseases,

intense violations of brain blood circulation (prevention and rehabilitation),

rehabilitation after head injuries.

How to apply: Adults by 1 capsule a day, with meal. Course duration is 4-6 weeks. Repeat a course if necessary. Repeated receptions within a year are possible.

Ingredients
AA-5
The brain peptide (peptide complex AA-5) stimulates the regeneration of neurons in the central nervous system, has a selective effect on various cells of the nervous tissue and brain, normalizes the metabolism in cells and regulates their functions.
AA-6
The retinal peptide (peptide complex AA-6) has a stimulating effect on the photoreceptors and cellular elements of the retina, helps to improve the functional interaction of the pigment epithelium and the outer segments of the photoreceptors, glial cells with dystrophic changes, accelerates the restoration of retinal light sensitivity. It normalizes vascular permeability, reduces the manifestations of local inflammatory reactions, and stimulates reparative processes in diseases and retinal injuries.
AA-7
Vascular wall peptide (peptide complex AA-7) regulates metabolic processes in the vascular wall. Helps increase the elasticity of blood vessels of the arterial, venous and lymphatic channels. Reduces the risk of damage to the vascular wall, hemorrhage and thrombosis. Improves blood supply to organs and tissues. Stimulates blood formation.
Astaxanthin
It is a powerful antioxidant, 100 times more effective than vitamin E and 10 times more effective than beta-carotene. Protects our body from free radicals and protein glycation products. It has a general strengthening effect, slows down the aging process, improves immunity, improves vision, positively affects the health of the gastrointestinal tract (successfully used for dyspepsia, Helicobacter pylori eradication), supports the cardiovascular system, increases working capacity and endurance. It has a special effect on the skin: it reduces the number of wrinkles, increases the level of hydration and restores its elasticity.
Carotenoids
Lutein and zeaxanthin isolated from marigold extract protect the lens of the eye from the oxidative process and help maintain visual acuity. As antioxidants, they are able to neutralize free radicals that oxidize and damage the retina, prevent the development of cataracts, and serve as an excellent prevention of age-related macular degeneration.
Choline
It is able to improve memory and enhance cognitive (cognitive) functions of the brain, replenishes acetylcholine deficiency, improves blood supply to the brain, helps to cope with increased intellectual stress, facilitates the learning process, increases the brain's resistance to extreme factors, enhances the ability to concentrate. Choline has a rejuvenating effect at the cellular level and slows down the aging process.
Omega-3 polyunsaturated fatty acids
They have a pronounced normalizing effect on lipid metabolism, increase the elasticity of the vascular walls, and contribute to the prevention of heart attacks and strokes, multiple sclerosis. Omega-3 polyunsaturated fatty acids reduce the risk of insulin resistance and diabetes, and are also necessary in the formation of cell membranes, mitochondrial filaments, myelin sheath of nerves, and connective tissues.
Vitamin B1 (thiamine)
Improves the body's immune system, ensures the normal state of the mucous membranes, is involved in the formation of red blood cells and carbohydrate metabolism. Vitamin B1 (thiamine) optimizes cognitive activity and mental activity, has a positive effect on energy, growth, normal appetite, and learning ability, which is necessary to maintain muscle tone of the intestines, stomach, and heart.
Vitamin B2
It is necessary for the formation of red blood cells, antibodies, to regulate growth and reproductive functions. It is essential for skin health, nails, hair growth and maintaining good health in general, including the function of the thyroid gland. It helps to absorb iron, thus preventing the development of anemia.
Vitamin B6
Vitamin B6 (pyridoxine hydrochloride) improves the absorption of unsaturated fatty acids, without which there is no beauty and health, is directly involved in the exchange of proteins and amino acids, affects the production of hemoglobin, how much energy the body receives from proteins, fats and carbohydrates depends on its work.