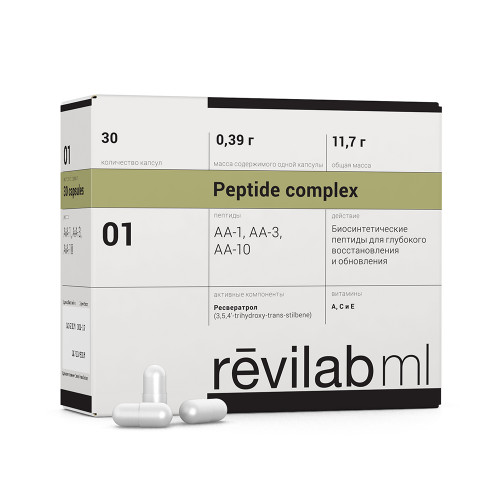 Awaiting EOF's approval
ORDER BY PHONE
We would to inform you that we accept orders by phone! Call 210 3808 522 and we will be happy to help you by answering any of your questions.
Revilab ML 01
Stock:

In Stock

Code:

7110012
Anti-age and oncoprotector
30 κάψουλες των 0.39 g
Revilab Peptide ML – series of multicomponent peptide preparations, which uniqueness consists in principle of all-in-one action. Action of these new generation bioregulators is directed to delaying aging processes, maintenance of normal level of metabolic processes, prevention and correction of various states; rehabilitation after serious diseases, injuries and operations.
Effective action of Revilab Peptide ML is due to hi-tech formula. Each of 9 preparations contains a number of short peptides, antioxidants and building material for cells. It renders faster effect for various systems of organism, launching internal restoration function.
Ingredients:
Capsule (gelatin, HPMC, food titan dye dioxide), ascorbyl palmitate (vitamin C), MCC (carrier), bitartrate of choline, omega-3 polyunsaturated fatty acids (alpha-linoleic acid, contains carrier sorbitol and maltodextrin), glutamic acid, aspartic acid, lactose (filler), mixture of tocopherols (vitamin E), calcium stearate (flowing agent), resveratrol, peptide complex AA-1 (tetarapeptid consisting of L-alanine, L-glutamic acid, L-aspartic acid and L-glycine), AA-3 (dipeptide consisting of L-lysine and L-glumatic acid), calcium stearate (flowing agent), AA-10 (tripeptide consisting of L-glutamic acid, L-aspartic acid and L-leucine), retinol palmitate (vitamin A), 5-hydroxytryptophan (extract of griffonia).
Recommended for:
presenilation prevention,

oncopathology prevention,

antioxidant protection of organism,

improvement of brain blood circulation,

improvement of CNS activity,

prevention of heart attack and stroke,

autoimmune diseases.

How to apply: Adults by 1 capsule a day, with meal. Course duration is 4-6 weeks. Repeat a course if necessary. Repeated receptions within a year are possible.

Ingredients
5-hydroxytryptophan (griffonia extract)
It is able to improve memory and enhance cognitive (cognitive) functions of the brain, helps to cope with increased intellectual stress, facilitates the learning process, increases the brain's resistance to extreme factors, and strengthens the ability to concentrate. Choline has a rejuvenating effect at the cellular level and slows down the aging process.
AA-1
Peptide complex AA-1 (tetarapeptid consisting of L-alanine, L-glutamic acid, L-aspartic acid and L-glycine). It has a selective effect on the cells of the neuroendocrine system, normalizes the metabolism in the cells of the pineal gland and the secretion of melatonin, regulates hormonal metabolism, and has a regulatory effect on the pineal gland, adrenal glands, and the whole organism.
AA-10
Liver peptide (AA-10 complex) has biological activity, which manifests itself in stimulating the regeneration of liver tissue by restoring the synthesis of tissue-specific proteins and normalizing the functions of liver cells.
Glutamic acid
It is an active natural neurotransmitter that is absorbed by our body without a trace. One of the main building substrates for proteins, along with aspartic acid. It normalizes metabolism, changing the functional state of the nervous and endocrine systems. In addition, it is capable of eliminating hazardous toxic metabolic products such as ammonia.
L-aspartic acid
ncreases immunity, metabolism, participates in the processes of formation of ribonucleic acids. It is part of most signaling molecules in the body. It performs neuroprotective functions, plays a crucial role in the metabolism, accelerates the restoration of health.
Omega-3 polyunsaturated fatty acids
They have a pronounced normalizing effect on lipid metabolism, increase the elasticity of the vascular walls, and contribute to the prevention of heart attacks and strokes, multiple sclerosis. Omega-3 polyunsaturated fatty acids reduce the risk of insulin resistance and diabetes, and are also necessary in the formation of cell membranes, mitochondrial filaments, myelin sheath of nerves, and connective tissues.
Vitamin A (Retinol)
It helps in reproductive function. Participates in the processes of photoreception (vision). The growth and integrity of epithelial tissues, including the mucous membranes of all three channels: respiratory, nutrition and excretion, depend on retinoic acid. Vitamin A also plays an important role in maintaining the structural integrity and function of the digestive tract. Retinol contributes to the conservation of glycogen in the body - the main storage of energy in the body.
Vitamin C
Powerful antioxidant, necessary for the reproduction of connective tissue, stabilizes the immune system and helps to create resistance to various stresses of the body.
Vitamin E (tocopherol acetate)
Vitamin E is known for its antioxidant properties. Antioxidants help to protect your body from damaging compounds called free radicals.