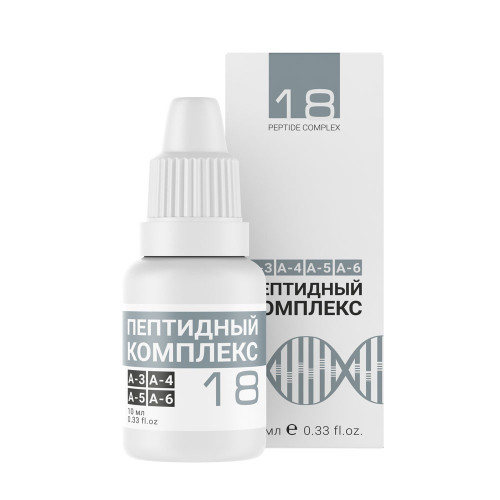 New
ORDER BY PHONE
We hasten to inform you - now for your convenience we accept orders by phone! Call 210 3808 522 and we will be happy to help you by answering any of your questions.
Peptide complex 18
Stock:

In Stock

Code:

7150183
Peptide complex 18 - for acoustic analyzer

Bulk 10 ml
The new generation of natural peptides for external application which does not have analogs in world practice. These are configurations from extremely high-purity peptide fractions, capable to get through any physiological barriers without intermediaries. The Peptide Complexes (PC) are necessary to apply on internal surface of forearm in a projection onto vein course and rub till full absorption. In 7-15 minutes peptides are linking together with dendritic cells, which transfer them to lymph nodes, where peptides do 'transfer' and move with blood flow to the necessary organs and tissues. The gained effect may remain from 4 to 6 months after 2-4 months medicine use. After this term is recommended to resume the course.

Peptide complex for acoustic analyzer. Contains peptides - vessels, cartilages, brain, thymus.

Recommended:
prevention of presenilation,
initial stages of sensorineural hearing loss,
otitises and the consequences,
injuries of tympanic cavity,
sound trauma, contusions.

Ingredients:
Purified water, glycerin, bioantioxidant complex «Neovitin®», phenoxyethanol and ethylhexylglycerin, propylene glycol, PEG-40 hydrogenated castor oil, xanthan gum, peptide complexes: A-3, A-4, A-5, A-6, essential oils of lavender and fir, linalool, limonene.

How to apply:
Apply 6-8 drops on internal surface of forearm and rub till full absorption. Course duration is 3 months. It is possible to use 6 peptide complexes simultaneously.
Ingredients
A-3
Vascular peptide (A-3) has a strong vasoprotective effect, through the restoration of microcirculation and metabolism in the vascular wall, increasing its elasticity and permeability. The vascular peptide normalizes cell wall permeability, restores nutrient organs and cellular metabolism.
A-4
Cartilage peptide (A-4) has biological activity, which is manifested in the normalization of metabolism in bone and cartilage, promotes the regeneration of joints and connective tissues of the skin frame.
A-5
The brain peptide (A-5) selectively acts on the cells of the nervous tissue and brain, normalizes the metabolism in the brain cells and regulates their functions. It stabilizes the membranes of neurons, normalizes the processes of nerve impulse, removing emotional and mental excitability. It has a neuroprotective effect, preventing the degradation of neurons and the development of senile dementia.
A-6
The thymus peptide (A-6) activates the cellular link of immunity and fully covers the entire process of the immune response, restoring and normalizing the interaction of immunocompetent cells, antibody synthesis and the entire immune response in general. It has a regulatory effect on thymus cells, accelerates the maturation of various populations of T-lymphocytes, equalizes the ratio of T and B-lymphocytes, normalizes the immune response, and has an oncoprotective effect.
Fir essential oil
Fir essential oil contains tannins, carotene, ascorbic acid and tocopherols. Due to its high biological activity, fir oil has valuable cosmetic, medicinal, disinfecting and anti-inflammatory properties. Its special properties are also associated with bactericidal and antiviral effects. Fir is capable of suppressing staphylococci, droplet infections and rod-shaped microorganisms, which is why the air in coniferous forests is especially clean and fresh. And, as a rule, after visiting such a forest, there is a feeling of cheerfulness and lightness. Fir oil contributes to the successful treatment of bronchopulmonary pathologies, in particular, the cleansing of the trachea and bronchi, the reduction of the general intoxication of the body and the reduction of inflammatory processes. It is also effective as a prophylactic agent for susceptibility to acute respiratory infections and influenza. For people who have suffered serious and protracted illnesses, who have undergone radiation sessions, for those who need quick acclimatization to a new environment, as well as for those who need to recover from emotional stress, fir essential oil can be very useful. It is recommended for heavy physical exertion and for maintaining the normal functioning of the cardiovascular system. It has an interesting effect on a person's blood pressure, equalizing the low, lowering the high and absolutely not changing the normal. In addition, it has been proven that the elements that make up fir oil regulate the glucose content in the blood serum. When applied externally, fir oil is first of all disinfected with wounds, abrasions, scratches, it prevents suppuration of small wounds. Fir essential oil contains 35 different elements that help to restore the skin's structure and nourish it with beneficial microelements. Penetrating into the articular tissues, the oil improves the microcirculation of blood and lymph, thereby relieving pain and restoring normal nutrition to the cartilage tissue.
Lavender essential oil
Το αιθέριο έλαιο λεβάντας έχει έντονο αντισπασμωδικό, ηρεμιστικό και διουρητικό αποτέλεσμα. Λόγω της εξαιρετικής επίδρασης λεμφικής αποστράγγισης, το αιθέριο έλαιο λεβάντας βελτιώνει τη μικροκυκλοφορία, διεγείρει το καρδιαγγειακό σύστημα και την εγκεφαλική κυκλοφορία. Το αιθέριο έλαιο λεβάντας είναι ένας ισχυρός αντισηπτικός, βακτηριοκτόνος και αναγεννητικός παράγοντας, επομένως χρησιμοποιείται για γρήγορη επούλωση τραυμάτων, καταστροφή παθογόνων μικροβίων, απορρόφηση ουλών και δερματικών φώκιας. Τα κλινικά στοιχεία επιβεβαιώνουν τις ισχυρές καταπραϋντικές και τονωτικές ιδιότητες του ελαίου λεβάντας. Το άρωμα της λεβάντας ομαλοποιεί τις λειτουργίες του νευρικού συστήματος και χρησιμοποιείται για αϋπνία, νεύρωση και ασθένειες νευρικής προέλευσης, γενική αδυναμία, αυξημένη κόπωση, απώλεια αντοχής.
Neovitin
The bioantioxidant complex Neovitin is extracted according to the original technology from the own ginseng biomass strain cultivated by the biotechnological method. New technology allows you to achieve the most complete extraction of a complex of antioxidants without losing their activity. The bioantioxidant complex Neovitin has an antioxidant anti-inflammatory, immunostimulating effect due to panaxosides and the specific polysaccharide panaxan. The synergistic effect of the active components of the complex contributes to the development of antioxidant enzymes and interferon in the body, which inhibit the lipid peroxidation (destruction) reaction of the blood vessel cell membrane membranes, strengthen them, and thereby increase the body's resistance, including premature aging. Neovitin controls the formation and leads to a physiological norm, the number of the main provocateurs of premature aging - free oxygen radicals formed during the life of the body. He is also the main agent for their neutralization. The complex is stable during storage and has a high penetrating ability through the dermis and mucous membrane. It is proved: Neovitin has an anti-inflammatory and regenerative effect, which determines its widest use in anti-aging skin products and therapeutic and prophylactic products for oral care. The unique properties of Neovitin are confirmed by 11 patents for inventions and awarded with gold medals of the Russian Academy of Natural Sciences. I.I. Mechnikov "For the practical contribution to strengthening the health of the nation" and P. Erlich of the European Commission for Academic Awards "For special merits in the field of social and preventive medicine"