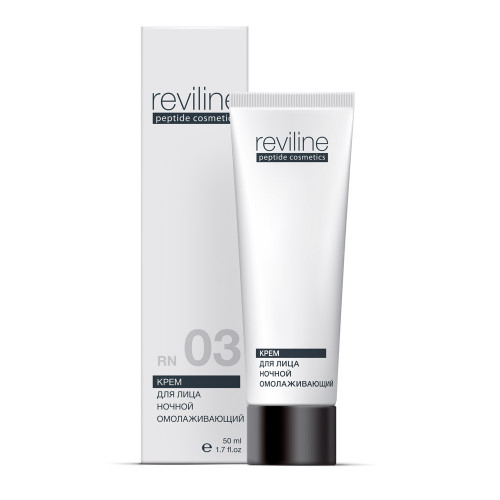 ORDER BY PHONE
We hasten to inform you - now for your convenience we accept orders by phone! Call 210 3808 522 and we will be happy to help you by answering any of your questions.
RN03
Stock:

In Stock

Code:

7321031
Night face cream (RN03)

Bulk 50 ml
Rejuvenating night crean with peptides - exclusive cosmetic remedy with perfectly selected components, guaranteeing to obtain a maximum rejuvenation effect.
A unique peptide series of cellular REVILINE® cosmetics take the leading positions among skin care products, having expressed anti-age effect. Formulas of creams are developed considering the latest innovations in world cosmetology. The line includes a number of natural peptide complexes with various points of application having effective rejuvenating effect on skin. Due to effect of natural peptides metabolism in skin cells is restored and remains at optimum physiological level. Texture and color is improved, skin is moisturized, lifting effect is reached.
Night rejuvenating cream with peptides - exclusive cosmetic remedy with perfectly selected components, guaranteeing to obtain a maximum rejuvenation effect. Cream has extremely high penetration and soaking-up ability, hypoallergenic, suitable for sensitive skin.
The cream makes your skin soft and silky, gives consistent and healthy color, protects from aggressive environment influence.
Contains peptides - thymus.
Effect:
returns elasticity
normalizes face color
smoothes small wrinkles

prevents age changes of skin
possesess expressive antioxidant action
impoves microcirculation and trophicity in skin
removes toxins and slags
blocks destruction of elastic fibers
acivates protein and lipid metabolism
intensively moiturizes and nourishes
activates cellular respiration
Ingredients:
Aqua, ethylhexyl cocoate, bioflavolipid complex Activitin (salvia officinalis extract, chamomilla recutita extract, hypericum perforatum extract, calendula officinalis extract), glycerin, sorbitan isostearate, hydrogenated castor oil, ceresin, cera alba, olea europaea fruit oil, PEG-30 dipolyhydroxystearate, betaine, phenoxyethanol, ethylhexylglycerin, peptidе complex А-6, hydrolyzed collagen, tocopherol, silver citratе, titanium dioxide, magnesium sulfate, xanthan gum, EDTA, BHT, parfum, butylphenyl methylpropional, hydroxyisohexyl 3-cyclohexene carboxaldehyde.
How to use:
Apply cream on clean face, neck and decollate skin by easy massing movements.
Ingredients
Activitin
The Activitin bioflavolipid complex is a two-phase extract of medicinal plants of the northern and middle stripes of Russia (sage, chamomile, calendula, St. John's wort), obtained by the original technology. The technology of two-phase extraction, in contrast to other known extraction methods, ensures the extraction of the full native complex of biologically active substances. It accelerates the regeneration processes in the skin, reduces the severity of inflammatory reactions, protects against the damaging effects of ultraviolet radiation, has a tonic effect on the skin and blood vessels, which is manifested in a decrease in the permeability of blood vessels and increase the strength of their walls, improves blood microcirculation, preventing the appearance of vascular networks on the skin.
Silver citrate
The antimicrobial activity of silver has been known to mankind for over 100 years: silver is an effective antimicrobial agent, use is safe for human health, natural biocide, a variety of technologies based on the use of silver have been successfully used in medicine and other (technical) fields including water treatment, wound dressing, etc. The use of silver in cosmetics has not yet been so successful because of the limited compatibility and stability of silver-based products on the market in cosmetics, which led to precipitation, discoloration, and reduced efficiency.