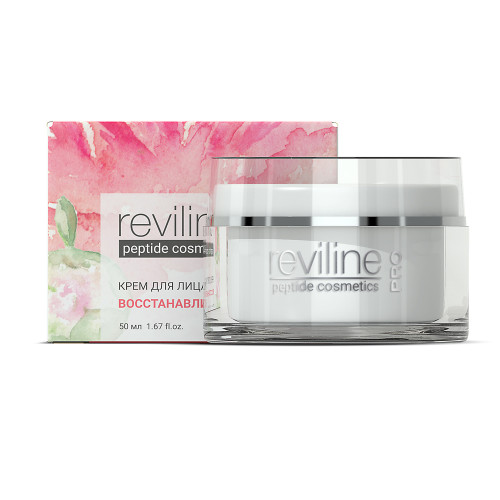 Hot
ORDER BY PHONE
We would to inform you that we accept orders by phone! Call 210 3808 522 and we will be happy to help you by answering any of your questions.
Reviline Pro revitalizing face cream
Stock:

In Stock

Code:

7322010
Reviline Pro revitalizing face cream

Bulk 50 ml
Reviline pro
- a basic series of skin care products with short peptides which include skin rejuvenation mechanisms. Reviline pro facial creams may be considered as future cosmetics, as they combine advanced developments in the field of cosmetics and anti-aging medicine.
The unique combination of professional peptide substances (short peptides), effective plant extracts and natural oils allow to resist to skin aging and destroying influence of aggressive factors of environment. By means of powerful antioxidants of phytogenesis Reviline pro fights against emergence of wrinkles, resist to skin dehydration, makes skin elastic — it is the real challenge of time in soft and velvety cream!
In the line are included 4 types of cream, which application favorably influences skin - calms and protects, stimulates updating of its` own cells and providing nutrition and moistening.
Vegetable oils and extracts which are a part of cream, are rich of polynonsaturated fatty acids, vitamins, natural biologically active substances which have nutritious, moistening and restoring effect. Moreover, they protect skin from external adverse factors: air impurities, stress, sunlight, climatic changes, activating vital force and youth of skin.
Effect:
slows down skin aging process

stimulates exchange processes in skin cells

restores natural regeneration of skin

eliminates negative impact of external adverse factors on skin: polluted air, stress, sunlight, climatic changes

returns to skin ability to keep the natural level of moisture and рН

activates vital force and returns youth to skin

Ingredients:
Aqua, Cyclomethicone, Olea Europaea Fruit Oil, Steareth-21, Steareth-2, PEG/PPG-14/4 Dimethicone, Glycerin, Ethylhexyl Cocoate, Hydroxyethyl Acrylate/Sodium Acryloyldimethyl Taurate copolymer, Caprylic/Capric Triglyceride, Dimethicone, Glyceryl Stearate, Potassium Cetyl Phosphate, Cetearyl Alcohol, Simmondsia Chinensis Seed Oil, Phenoxyethanol, Ethylhexylglycerin, Divinyldimethicone/ Dimethicone Copolymer, С12-13 Pareth-3, С12-13 Pareth- 23 , Chamomilla Recutita Extract, Stearic Acid, Palmitic Acid, Glycyrrhiza Glabra Root Extract, Elaeis Guineensis Oil, Tocopherol, Disodium Rutinyl Disulfate, Hydroxyproline, Magnesium Ascorbyl Phosphate, Tocopherol, Ascorbyl palmitate (liposomal vitamin C), Ricinus Communis Seed Oil, BHT, Punica Granatum Seed Extract, Disodium EDTA, Aesculus Hippocastanum Extract, Zingiber Officinale Root Extract, Retinyl Palmitate, Peptidе Complex АА-1, Parfum.

How to apply:

Apply in the morning and/or in the evening on cleaned face and neck skin by easy massing movements.
Ingredients
Castor oil
Castor oil contains a large amount of ricinoleic acid fatty acid, which has a softening effect and is recommended for use in sensitive and dry skin care as a nourishing and soothing agent. Castor oil perfectly eliminates skin problems such as dryness, peeling, loss of elasticity, lack of moisture. In addition, castor oil has a rejuvenating effect, smoothing superficial wrinkles on the face, and also effectively helps in the fight against wrinkles around the eyes (the so-called "crow's feet").
Chamomile extract
It accelerates the regeneration and healing of tissues, has an anti-allergic effect, and also intensively and productively nourishes the skin, whitens it and removes pigmentation activity. Preparations based on this plant are recommended to be used to fill the vital force of any type of skin.
Chestnut extract
The composition includes substances saponins, which have a wide spectrum of effects: increase vascular tone, strengthen capillaries and vascular walls, relieve swelling, and reduce lymph flow. Chestnut is also rich in tannins, which denature protein cells and form a protective film with bactericidal and astringent properties. It contains vitamins A, C, K, as well as B vitamins, thiamines, coumarins, glycosides, pectins, carotene, flavonoids, mucus, organic acids, lecithin, globulin, and fatty oils. The most valuable of flavonoids is quercetin, which stimulates the processes of tissue metabolism, tones, reduces swelling, acts as a wound healing agent, and is a powerful antioxidant.
Ginger root
It contains essential elements that play an important role in the metabolic process - amino acids, vitamins C, B1, A, B2, zinc, sodium, iron, potassium, magnesium, sodium and calcium salts. It is used as an anti-inflammatory and moisturizing component, it helps cleanse the skin and remove toxins, improves complexion, regulates oily skin, is effective against acne, activates collagen synthesis, thus increasing skin firmness and elasticity, improves blood circulation, and has regenerative and tonic properties. Scientists have proven the ability of ginger to prevent skin microcontraction, which is the main cause of the formation of small facial wrinkles. The result of applying cosmetics with ginger is a radiant, healthy, young skin of the face and décolleté.
Jojoba oil
It has a high content of vitamin E, which determines its antioxidant and regenerative properties. Jojoba oil is known for its anti-inflammatory properties, it eliminates redness of the skin and puffiness. Possessing normalizing properties, the oil is useful for both dry and oily skin. It can be used for acne, eczema, psoriasis, neurodermatitis, etc. In cosmetology, it works wonders. It nourishes and moisturizes, and penetrates deep into the pores, perfectly caring for the skin of the face, neck, and décolleté.
Licorice extract
It has antioxidant, anti-inflammatory, antibacterial, antiseptic, enveloping and restorative effects. Its anti-inflammatory and antimicrobial properties are used in the treatment of acne. It has a whitening effect. With its help remove swelling and skin irritation. The extract contains natural phytoestrogen, which stimulates the production of collagen, which prevents the aggravation of existing wrinkles and the appearance of new ones.
Liposomal Vitamin C
A special type of liposome consisting of several concentric bilayers. Polylamellar liposomes with concentric biolayers are a new generation of liposomes that increase the bioavailability of vitamin C and maintain its stability, ensuring its delivery to the papillary and basal epidermal words. Vitamin C is an antioxidant, increases collagen synthesis, strengthens blood vessels, capillaries, shows a brightening effect, helping to combat age spots.
Olive oil
It has an ideal formula for vegetable oil: a maximum of monounsaturated, easily broken down fats and a minimum of solid, saturated. It contains a large amount of unsaturated oleic and linoleic acids, as well as a vitamin complex including vitamins A, D, E. Olive oil is an excellent antioxidant, thanks to its non-saponifiable fraction, it softens the skin and prevents peeling, vitamins E and A prolong youth skin, increasing its firmness and elasticity, and monounsaturated fatty acids slow down the formation of wrinkles.
Palm oil
One of the richest sources of provitamin A (carotenoids), vitamin E (tocopherols and tocotrienols) and coenzyme Q10 (ubiquinone), which are the strongest antioxidants that can neutralize free radicals. It also contains vitamin K and magnesium. Palm oil is recommended for normal, problematic (flabby, wrinkled, fading), dry or dehydrated, chapped skin. Oil provides better adhesion of horny scales on the surface of the skin, thereby reducing the loss of fluid by the cells of the epidermis. In this case, the skin becomes smoother, softer and more elastic. Palm oil is used in dermatology due to the presence of carotenoids and tocopherols in it, giving it an anti-inflammatory and wound healing effect.
Pituitary peptides
They regulate metabolic processes and enhance protein synthesis in skin cells, have high antioxidant activity, normalize lipid peroxidation processes in skin cells, which helps to eliminate the negative effects on the skin of external (air pollution, increased solar radiation, intense physical exertion, trauma) and internal ( emotional stress) of adverse factors, as a result of which metabolic processes in tissues are activated and the process of their recovery is accelerated.
Pomegranate Seed Extract
It has a high content of pomegranate acid, known for its powerful anti-inflammatory effect. Studies show that pomegranate seed extract not only has a calming and softening effect, but also stimulates the growth of keratinocytes. It is also an ideal active ingredient for skin repair. Due to these regenerating properties, as well as the presence in its composition of phytosterols (substances that have antioxidant effects and protect the body from free radicals), this extract is a reliable ally in the fight against age-related changes.
Vitamins A and E
They are powerful antioxidant - a lifesaver of cells. Antioxidants neutralize free radicals - the main culprits of wrinkles, slow down the aging process, protect the skin from the harmful effects of ultraviolet radiation, and also reduce the risk of many diseases, including cancer and cardiovascular diseases.