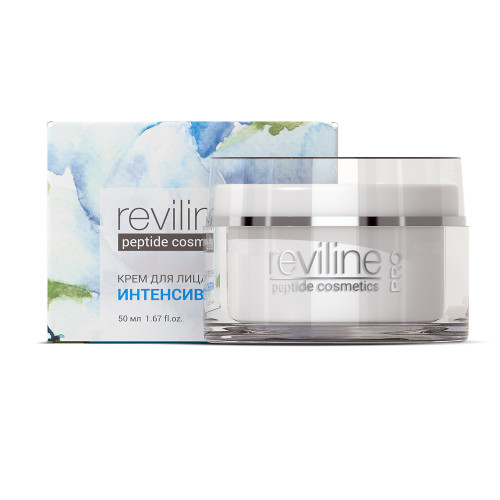 ORDER BY PHONE
We would to inform you that we accept orders by phone! Call 210 3808 522 and we will be happy to help you by answering any of your questions.
Reviline Pro - face cream intensive
Stock:

In Stock

Code:

7322020
Reviline Pro - face cream intensive

Bulk 50 ml
Reviline pro
- a basic series of skin care products with short peptides which include skin rejuvenation mechanisms. Reviline pro facial creams may be considered as future cosmetics, as they combine advanced developments in the field of cosmetics and anti-aging medicine.
The unique combination of professional peptide substances (short peptides), effective plant extracts and natural oils allow to resist to skin aging and destroying influence of aggressive factors of environment. By means of powerful antioxidants of phytogenesis Reviline pro fights against emergence of wrinkles, resist to skin dehydration, makes skin elastic — it is the real challenge of time in soft and velvety cream!
In the line are included 4 types of cream, which application favorably influences skin - calms and protects, stimulates updating of its` own cells and providing nutrition and moistening.

Components of cream render intensive and soft care of face skin. Nourish, moisturize it, stimulate exchange processes, have antioxidant features, strengthen skin surface. Natural vegetable oils and extracts are valuable sources of natural biologically active substances, vitamins, polynonsaturated acids which promote restoration of skin barrier, slowing down aging processes.
Effect :
provides intensive skin cell nourishing, making it fresh and elastic

restores a natural skin barrier

stimulates and promotes skin cell activity, accelerates updating process, improves skin tone and reduce vascular grids on face

slows down skin aging process

Ingredients:
Aqua, Corn Starch Modified, PEG-2 Stearate, Ceteareth-25, Cetyl Alcohol, Hydrogenated Coconut Oil, Paraffinum Liquidum, Olea Europaea Fruit Oil, Cyclomethicone, Glycerin, Propylene Glycol, Ethylhexyl Cocoate, Hydroxyethyl Acrylate/Sodium Acryloyldimethyl Taurate Copolymer, Vitis Vinifera Seed Oil, Phenoxyethanol, Ethylhexylglycerin, Chamomilla Recutita Extract, Divinyldimethicone/ Dimethicone Copolymer, С12-13 Pareth-3, С12-13 Pareth- 23 , Triticum Vulgare Germ Oil, Calendula Officinalis Extract, Quercus Robur Bark Extract, Potentilla Erecta Root Extract, Glycyrrhiza Glabra Root Extract, Ricinus Communis Seed Oil, BHT, Acrylates/C10-30 Alkyl Acrylate Crosspolymer, Triethanolamine, Punica Granatum Seed Extract, Disodium EDTA, Aesculus Hippocastanum Extract, Peptidе Complex АА-7, Parfum.
How to apply:
In the morning and/or in the evening apply by easy massing movements on cleaned face and neck skin.

Ingredients
Castor oil
Castor oil contains a large amount of ricinoleic acid fatty acid, which has a softening effect and is recommended for use in sensitive and dry skin care as a nourishing and soothing agent. Castor oil perfectly eliminates skin problems such as dryness, peeling, loss of elasticity, lack of moisture. In addition, castor oil has a rejuvenating effect, smoothing superficial wrinkles on the face, and also effectively helps in the fight against wrinkles around the eyes (the so-called "crow's feet").
Chamomile extract
It accelerates the regeneration and healing of tissues, has an anti-allergic effect, and also intensively and productively nourishes the skin, whitens it and removes pigmentation activity. Preparations based on this plant are recommended to be used to fill the vital force of any type of skin.
Grape seed oil
Appreciated for the high content of unsaturated acids and natural antioxidants (vitamins A, E). Grape seed oil is lightweight, well absorbed and suitable for any skin type. It can be used in skin care products for acne and dermatitis, as it has anti-inflammatory, regenerating and tonic effects. For people with withered skin, grape seed oil, which also contains antioxidants, is recommended to restore elasticity, improve complexion and smooth wrinkles.
Oak bark extract
The active components of oak bark are tannins (pentosans, pectic and gallic acids). Potassium, magnesium, calcium, iron, zinc are also present in the oak bark. It is the content of tannins that gives the bark tanning properties and plays an important role in the binding of tissue proteins, strengthens them and makes it impervious to bacterial infections and invasions, which is important for skin health. Oak bark is considered one of the best astringents, which strengthens the walls of blood vessels and tightens tissues, and also has antiseptic and anti-inflammatory properties.
Olive oil
It has an ideal formula for vegetable oil: a maximum of monounsaturated, easily broken down fats and a minimum of solid, saturated. It contains a large amount of unsaturated oleic and linoleic acids, as well as a vitamin complex including vitamins A, D, E. Olive oil is an excellent antioxidant, thanks to its non-saponifiable fraction, it softens the skin and prevents peeling, vitamins E and A prolong youth skin, increasing its firmness and elasticity, and monounsaturated fatty acids slow down the formation of wrinkles.
Potentilla
It has a bactericidal, astringent effect, relieves inflammation. Tannins create a biological film that protects the skin from bacterial and UV environmental influences that can cause inflammation. At the same time, there is a narrowing of blood vessels and a decrease in the penetration of capillaries.
Starch
There are many nutrients and elements that have a rejuvenating effect on aging skin. Such therapy will also be useful for young skin requiring regular care to prevent premature aging. Starch contains: Vitamin C, which regenerates damaged cells, restoring them to life, and protecting them from further destruction, killing free radicals; niacin (vitamin PP), participating in redox reactions, awakening asleep cells, the development of which slows down over time; choline, which perfectly copes with malfunctioning sebaceous and fatty glands; potassium, which helps maintain a normal level of hydration in the skin, preventing the evaporation of moisture from the cells, and carbohydrates that nourish the skin and give it an extraordinary boost of energy.
Vascular Peptides
They regulate metabolic processes in the vascular wall, normalize vascular tone, prevent an increase in blood cholesterol concentration and the development of hypercoagulation, restore impaired microcirculation in organs and tissues under the influence of adverse environmental factors and emotional stress.
Wheat germ oil
It has a regenerating, moisturizing, softening, anti-inflammatory, wound healing, cleansing, anti-cellulite effect on the skin, improves the condition of both dry and oily skin. It helps to improve complexion, rejuvenates the skin, keeps it supple and fresh even in old age. It is especially recommended for dry and mature or aging skin. Wheat germ oil contains many unsaponifiable substances, including vitamin E, which is a natural antioxidant that slows down cell aging and eliminates inflammatory processes on the skin. It has great penetrating ability and helps to eliminate harmful substances from the body and skin.