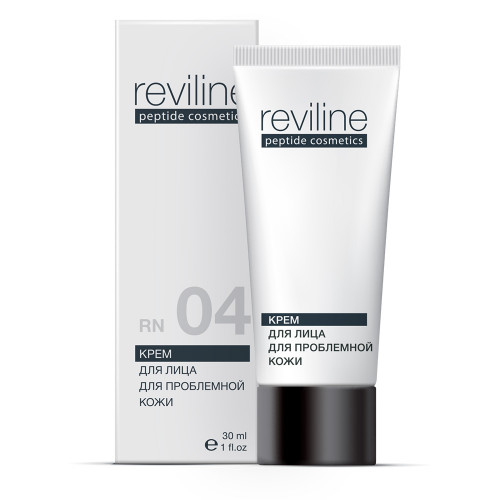 Out Of Stock
ORDER BY PHONE
We would to inform you that we accept orders by phone! Call 210 3808 522 and we will be happy to help you by answering any of your questions.
RN04
Stock:

Out Of Stock

Code:

7321041
Face cream for problem skin (RN04)

Bulk 30 ml
Face cream with peptides for problem skin - exclusive cosmetic remedy with perfectly selected components, guaranteeing to obtain a maximum anti-inflammatory and regenerating effect.
A unique peptide series of cellular REVILINE® cosmetics take the leading positions among skin care products, having expressed anti-age effect. Formulas of creams are developed considering the latest innovations in world cosmetology.
The line includes a number of natural peptide complexes with various points of application having effective rejuvenating effect on skin. Due to effect of natural peptides metabolism in skin cells is restored and remains at optimum physiological level. Texture and color is improved, skin is moisturized, lifting effect is reached.
Face cream with peptides for problem skin - exclusive cosmetic remedy with perfectly selected components, guaranteeing to obtain a maximum anti-inflammatory and regenerating effect. Cream provides delicate care of problem skin and has extremely high penetration and soaking-up ability.
The cream calms your skin, makes complexion even and healthy, moisturizes and softens, protects from aggressive environment influence.
Contains peptides - thymus.
Effect:

slows down aging processes
render anti-inflammatory and disinfecting effect
stimulates an epithelialization of damaged tissues

regulates skin hydrobalance
nourishes and tones up
impoves microcirculation and trophicity in skin
normalizes skin oiliness
interferes acne
possesses pore-narrow action
makes skin texture even
Ingredients:

Aqua, betula alba bark extract (Betulavit®), glyceryl stearate, potassium cetyl phosphate, cetearyl alcohol, steareth-21, steareth-2, PEG/PPG-14/4 dimethicone, bioflavolipid complex Activitin (salvia officinalis extract, chamomilla recutita extract, hypericum perforatum extract, calendula officinalis extract), stearic acid, palmitic acid, ethylhexyl cocoate, bis-diglyceryl polyacyladipate-2, phenoxyethanol, ethylhexylglycerin, peptidе сomplex A-6, dimethicone, hippophae rhamnoides oil, silver citratе, triethanolamine, BHT, parfum, butylphenyl methylpropional, hydroxyisohexyl 3-cyclohexene carboxaldehyde.
How to apply:

Small amount of cream apply on clean skin and rub in by massing movements till full absorbtion.
Ingredients
Betulavit (betula alba bark extract)
The unique healing properties and snow-white color of the birch trunks gives the birch betulin a substance from the class of triterpenoids (triterpene diatomic alcohol of a number of lupan). Birch bark remains white even when the tree has completely decayed by its microflora resistance. Birch bark is due to betulin. Numerous studies have shown that betulin really has the most valuable pharmacological properties: anti-inflammatory; antibacterial and antifungal; antioxidant (inhibits the aging process), regenerating (affects the skin receptors responsible for the renewal of the epidermis); moisturizing (improves TEPV); anti-allergic. Hepatoprotective, hypocholesterolemic, choleretic are proven. antilithogenic properties of betulin for internal use. The antitumor effect of betulin in melanoma, carcinoma, and intestinal tumors is extremely important. The scientific team of the company proposed an original technology (patent for invention No. 2206572) for producing food-grade betulin with the most complete extraction of the total amount of triterpene compounds. This technology formed the basis for the creation of a new commercial product Betulavit (birch bark extract) of exclusive raw materials for the cosmetic and food industries, which have the most valuable pharmacological properties: antioxidant, anti-aging, anti-inflammatory, antibacterial, anti-fungal, regenerating, affecting skin receptors responsible for updating the epidermis , moisturizing and anti-allergic New technology ensures the introduction of betulin into finished products at colloidal micellar ur is dispersion, which allows to achieve the maximum degree of distribution on the surface of the skin penetration betulinic fractions stratum corneum (horny layer of the epidermis) and the high efficiency of cosmetics. Betulin concentrates have also been developed for incorporation into food products as dietary supplements that provide a high level of bioavailability of the drug.
Silver citrate
The antimicrobial activity of silver has been known to mankind for over 100 years: silver is an effective antimicrobial agent, use is safe for human health, natural biocide, a variety of technologies based on the use of silver have been successfully used in medicine and other (technical) fields including water treatment, wound dressing, etc. The use of silver in cosmetics has not yet been so successful because of the limited compatibility and stability of silver-based products on the market in cosmetics, which led to precipitation, discoloration, and reduced efficiency.